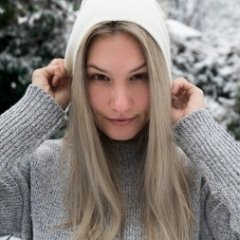 Well, my face is worse today. Much worse. With whiteheads popping up everywhere and little red bumps even more everywhere. I haven't felt my face so uneven (bumpy) in I can't even remember. I can't even run my finger across my face without slamming into little bumps or whiteheads. Ugh. They sure grew today too. They weren't hardly noticable this morning but oh, they grew. I thought about popping them with a needle tonight but I'll wait, atleast, until morning and see how they do. I know the oils are just bringing things up to the surface. I've heard amazing stories online of how, if you can just gut it through the purging, you'll have the most amazing skin.
My story with the OCM has been very similiar to most people's I've found. Cleared me up great for a few weeks then BAM! Major chin and jawline acne which grew to all over pimples. And so the purging begins. Most people quit, the purging is pretty intense, but I've heard those who stick with it love it in the end.
I bought an emulsifier today to add to my oil mix. That way all the oils wash off easily and I don't risk missing any residue. Well, bought it online. Going to have to wait like 2 weeks to get it. We will see how my skin looks in two weeks. Honestly? I don't think it'll be any better. In a year, it may be better.
In a year. But today? Today is bad. Tomorrow will be bad. It's going to be bad for a good while. But it will be good in the end.