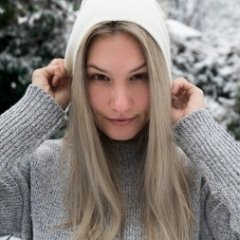 So it has been a few days and I've wiped out chemicals completely. I was going to use cetephil and a weekly sal. acid exfoliant but no. when my skin normalizes (and it will) then I can start trying gentle exfoliators, but my skin is too frail right now. it can't handle it.
So this is what I'm doing and I've been at it for 4-5ish days. Only wash face when I wear makeup (which i have switched to Everyday Minerals. I was using a tinted spf moisterizer which I loved! but it just had too many chemicals. I may go back after skin normalizes. I'm also looking for a chemical free spf) And when I do wash i don't splash with water like i usually would do. Instead I mix my oil concoction (75% grapeseed oil 25% castor oil, a good blob of honey and at times a few drops of lavender oil) and smear it on my dry, dirty face. Massage (and i can just feel the skin and clogged pores coming off), then I heat a rag and hover it near my face without actually touching. Steam a few times then gently wipe face with wash cloth. This way there is minimal water touching my face and absolutely no chemicals. I love it. My face feels so right. It doesn't hurt to open my mouth wide anymore...i don't crack! haha!
I don't tone, I don't need to moisturize. I have done a few honey masks overnight (sticky business) and they have greatly helped redness and overall tone. I'm not doing it too much though, don't wanna risk clogged pores. Plus, my skin is looking so much nicer I'm not as tempted to.
I've been going very minimal makeup these passed few days and will be all week long. Heck, maybe my courage will soar and i'll go without makeup. I am happy to report I only have a few clogged pores. nothing inflamed. No real pimples

Wow that felt good to say.
Still have lots of red marks and yes, still some clogged pores, but nothing I'm worried about. i'm letting my skin heal itself because chemicals are KILLING me. I've been washing with oils for over a month now, but with the addition of strong BP cleansers as an after wash, my skin has been up and down. I expect it to take 6-9 months for me to completely heal. But you know what? I know this is right and I know this is what will heal me. And I'm happily willing to wait that long. I've never had this much patience in skin care before because I never knew what would help. And i'd give things a week and say its not working. But this isn't a guess. It's the truth. Chemical abuse on my face is causing acne.