No Wheat, No Caffeine, No Cysts!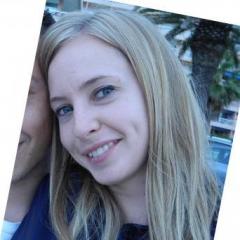 I had family from out of town over this weekend, which meant a lot of yummy food I could not have, like pizza, appetizers, desserts, etc. I made a lemon jello cake for my aunt's birthday with a cream cheese frosting, but was disappointed I couldn't eat it. I couldn't find a gluten free cake mix (now I looked online and they are sold at target....) but I did great and I didn't eat one cracker or dessert or slice of pizza that had wheat! It's been about a month and a half from eliminating all wheat and gluten, and I haven't had a cyst since. I am feeling great and have a lot of energy (or at least a normal amount of energy now). My joints aren't inflamed or hurting, I don't have headaches, and my digestive tract is consistent.

I've even continued eating a fair amount of dairy (gluten-free lasagna, cream cheese frosting lol, gluten-free pizza, etc) and I still get pimples but they are soooo minor. They go away very quickly. I hope it won't catch up to me too bad in a few weeks!
I have yet to find a good chapstick that doesn't give me little bumps/clogged pores that line the edge of my lips. I have like chronic chapped lips, no matter what the season. Because of the shedding and roughness, I've developed this horrible habit of chewing my lips...which worsens the problem. I use softlips, which works ok and doesn't seem to cause breakouts, but whenever I switch to the actual Chapstick brand or other things, it creates problems. My lips are just never moisturized enough. The breakouts are probably really from using Aquaphor at night, which the worst pore-clogging thing you could put on your skin. But hey, my lips are soft and smooth in the morning...but dry! lol It's like they soak up all the petroleum....
I ordered the Sandalwood Rose face mask from Pratima, after falling in love with a sample they sent with an order.... THIS IS LIKE PUTTING HEAVEN ON YOUR FACE!!! It is soooo smooth and makes your skin feel equally smooth. It tightens my pores (which are really noticable in the T-zone of my cheeks) and gives my skin sort of a glow. I've used it in the mornings, every other day, though it says to use twice a week. I've noticed a few very minor pimples since using it, which it may just be my skin purging. But at this point, there's A LOT of variables for those little buggers.
Anyways, at this point, I am really really please with my skin. I have hit the true 12-13 week mark of using Finacea, and see now that it really does take 12 weeks to experience it's full effects. The major blotchiness and redness in my face is gone. I wake up in the morning, and theres a light flushed color on my cheeks, but it looks natural. Lately, my skin is looking great so that I don't really want to put on makeup. It's greatly helped to reduce redmarks, but it takes a long time. I'm only self-conscious sometimes of the actual indentation of the scars on my cheeks. I remember in April/May looking at my jawline and all the holes and craters that were scars left from the horrible breakout from Dan's regimen. I was worried they would stay there forever. But, now that area is considerably smooth, and much much less noticeable. So, I'm hoping that these places on my cheeks will fill in with collagen again. I can't worry and stress over them. My skin is NO WHERE near where it was a year ago. It almost makes me cry!
My boyfriend comes in 6 days! If my skin stays like it is, I would be very confident in not wearing makeup around him. I'm soo excited!!!!