At The End Of 10 Weeks On The Regimen Of Minocycline With Retin-A Cream 0.025%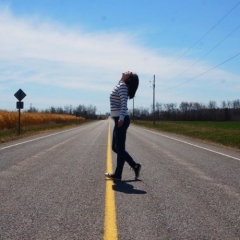 Hi people, It's my first time posting something on ACNE.ORG, quite excited.. I was planning to write a review or something like this to tell people how I am doing on the regimen or products that u guys are probably taking too..so here I am..It's a bit long, but absolutely helpful to those who are desperate and suffering from acne and initial breakout!
I have been having acne since I was 12( seventh grade), but luckily, only on my forehead but never stopped until 18...During that period I also experienced body acne on my chest and back..Occasionally on my neck and butt
After the summer 2011, It's the time to enter college, and I moved to Toronto from China for school...everything went fine including my forehead pimples..they went normally like before(3-4 a week)..however at the end of October 2011, pimples start to burst on my cheeks, where I rarely had pimples before...At first, I was ignoring them as I thought they would go away pretty fast as the cheeks are not where they used to "live", but I was wrong...As i never got acne on cheeks, only 4-5 outbreaks drove me nuts! I went to the health center of the university I go to, and had an appointment with a doc..eventually she prescribed me with Cetaphil Cleanser, minocycline 100g and 45g of Retin-A cream 0.025%( called Stieva -A here in Canada) , and Neostrata Oil Free Daytime Smoothing Lotion Level 3 in the morning(with Glycolic Acid in it, a gentle exfoliant) for 3 months.
Regimen: morning: Cleanse gently with Cetaphil, dry the hairline where water droplets come from with tissue paper and let the moisture on my face to dry naturally, after about 10mins to make sure that my face is dried, apply Neostrata Oil Free Daytime Smoothing Lotion Level 3(SPF15) with finger tips
Night: Cleanse gently with Cetaphil, do the same thing with drying, and wait for 25mins, then apply an exact pea size of RetinA for my whole face.
I started the regimen exactly on Nov. 1st, I got soooper excited and cant wait to see the results, felt like I would be looking perfect tomorrow or sth...Unfortunately the doc did not tell me the instructions of how to apply RetinA correctly, she just said do it at night, so the first two weeks, I applied huge amount of cream at night, which would not become transparent or invisible right after application. strangely, I did not experience severe drying or flaking, and the first two weeks went away calmly, and my friends even started to comment that my face looked much more calm and less inflammed, and I was so content because I thought that the results are really quick! HOWEVER, this is not the case, the initial breakout arrived at the end of the second week..And this is when my hellish life began..Before getting acne on cheeks, I regard myself as a pretty nice-looking girl especially with makeup on..but after the initial breakout began, people give me weird looks on the subway, as I must take subway to go to class everyday! I cried because I was so desperate, as I get around 7-8 new pimples(all pustules) everyday, on forehead, temples and cheeks, and I didn't know when was this going to end, and I am very self-conscious!! But I am a very optimistic person and I encourage myself every single day, I talk to my skin and tell "her" to keep going and not give up when I cleanse my face every night, and also pray and be thankful for God-given courage to live every single day like this! I told myself that this is a kind of experience that you would only have in some parts of ur life, and it's reminder of the times when u were young! Dont lose self confidence(even though I did), U r still the one who u love, ur family and God loves!
So, I went through November and that is when my forehead start to clear, but my temples and cheeks still had around 3 new ones everyday. After a pimple subsides on my cheeks and temple, it leaves a red mark, literally a red mark. At the beginning of December(around week 5), my temples are cleared too, though there are very deep marks on my temples and also scars. Exactly around week 7, the breakout on my cheeks start to slow down, I get around 3 pimples a week, which was a really surprise to me, as it is said on the leaflet in Stieva A that U should see noticeable improvements in 6-8weeks.. I was happy that my breakout slowed down, but it wasnt an improvement to me because I looked muchh worse than what I started with. My cheeks are covered with PIH and temples too, which only had 3-4 pimples before, especially my cheeks. But I told myself to continue because if I quit this product then it means that I get these PIH for nothing! I need RetinA to get me recovered and turn me back to how I used to be, then will be worth it than I quit now! Initial breakout didnt stop during Christmas(week 8), but at a slower frequency compared to the ones I got during weeks 3-7. Everytime I doubted this product, I came to this website and read reviews about RetinA, so that I could continue with hope!
I didnt put makeup on after I started even though I really want to hide those nasty bumps from people but I didnt cuz I know it will somewhat make it worse! I know my skin more than others just like how you guys understand yours, so if your acne is not makeup-sensitive, do cover lightly but not layers and layers that would do nothing good to ur acne.
I went back to see my doc in Jan 5th, and she was happy to see my forehead and temples had cleared although there were several scars on my temples and forehead left.And she told me to continue the same regimen for 2 more months to see how it does to clear the cheeks as well. After Jan 9th, my cheeks are cleared too!! I couldn't believe it, the initial breakout finally went away around week 9-10. Now is Jan 15th, I have been totally clear for one full week, I know It may sound pretty stupid but only I understand I much I had gone through to reach this mark! Now what I am wishing is that this regimen can keep my skin clear just like this and fade my tons of PIH more quickly as well as scars. I will be keeping the same regimen until I go back to see my doc in March, and I will post my recent status on this regimen on this blog!
I didnt give up and finally see how I really get cleared(even just for a week!)! DONT GIVE UP PEOPLE! U WILL GET THERE!
BTW, apart from the regimen prescribed from doc, I also keep myself in a balanced and healthy diet! I banned all the dairy products from my diet and I drink tons of water a day( little more than 3 liters) Have as many veggies and fruit as possible, as they are always good for you! Cherries and oranges are perfect source of Vitamin C, which helps to lighten your pigmentation or even helps with lightening skin color~
Wish everybody good luck on their way to clear skin!