Stupid redirect loop! I've been trying to publish this for about twenty four hours..! And now it is very overdue. I actually started writing it ages ago, but never got around to finishing it. And now it's so overdue, I feel like I just need to get it out there, even though it's substandard, and a more disappointing Christmas present than one holey sock (hey, the older you get the more exciting a proper pair of socks becomes because it means you didn't have to go sock-shopping, don't deny it. Everyone hates sock-shopping. Well everyone who's of a certain age anyway. And I don't want to hear any nay-saying from you young whipper snappers!). So anyway, happy Christmas, and merry holidays...!
...A tad late...
As of Tuesday [side note: last week, because I'm slack] I've commenced holidays, for a whole two weeks yay!! Although, if I'm completely honest, Monday at work was a bit of a write-off, since I arrived late, then spent about two hours at morning tea, which melded into lunch, which became a chat session, which was later followed up by numerous people skiving off early (including me, using the justification that I had to fly out ridiculously early the next day, and hadn't done my packing yet).
Now I'm going to put it out there that I don't like packing. In fact I really dislike it. I'm not sure what it is, but I will whinge about it for about three days before it, and then during it, and then even after it for a bit (I know you're all wishing you could hang out with me during these times). As an example of the extent to which I will procrastinate from packing, on Monday night I found myself taking all my clothes out of my shelving, re-folding them, and putting them back organisedaccording to their clothing type, fabric, and relative usage frequency (I contemplated colour as well, but since I don't have all that many clothes that'd mean I'd have ruined the usage-frequency ranking)... Which meant by the time I was actually finished placing things in my suitcase, it was 1 am, when I needed to be up by 5 am to catch the train to my flight then next day.
My flight was okay though; the plane was only about two-thirds full, which meant I had a row to myself, score! I booked on my favourite airline too, so they provide food, drinks and entertainment (double score!). This was slightly tarnished by the fact that the movie they showed us was incredibly depressing (Spoiler alert for the italicised text): Jane Eyre. Seriously, I know it's supposed to be a classic, and a pioneer for women's movements, but does it have to be so bloody bleak? Girl is orphaned (sad). Girl gets adopted by aunt, and gets abused by cousin (upsetting). Girl gets sent to finishing school, and is abused (disturbing). Befriends another girl, who dies in her arms (depressing). Girl escapes and gets job at a country school, then as a governess to a ward of a imposing-but fancy estate (should be happy, but somehow manages to be gloomy and ominous). In order to not "ruin" the movie (if such a thing is possible for such a depressing movie), let's just say other stuff happens, before (you guessed it), more really sad stuff happens.
Even positive things that happen are mired by some glass-is-not-just-half-empty-but-actually-contains-poison thing. Come on, when you're flying at 30,000 feet in the air you do not want to watch a depressing movie about how some poor girl with no personality gets the heart and soul beaten out of her by a cruel and unjust life. Is it to much to ask for an uncomplicated happy ending? I think not. It left a bad taste in my mouth. Another thing that left a bad taste in my mouth was my apple and walnut muffin. Thinking I was going to console myself over the latest depressing turn of events in the movie, I blissfully bit into my muffin (I keep spelling it "muffing"), completely unaware that the universe was playing a cruel trick on me... Salt. That's all I could taste. I had bitten into a solid lump, about the size of a large grape, which was comprised completely, 100%, of unadulterated (okay maybe slight damp, but that's it) salt. Ugh! Okay, I know I said I loved salt, but this is ridiculous!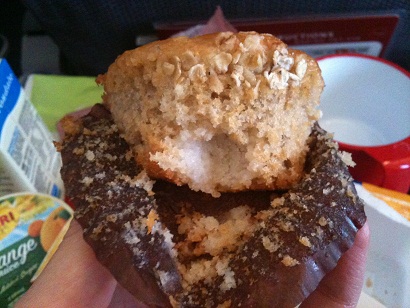 The "apple and walnut" muffin (okay this is really annoying, my fingers just automatically write muffing). That soft white moist interior? Evil.
Ingredients: Salt (92%), other-stuff-that-makes-it appear-like-a-deceptively-delicious-sweet-muffing [I give up. It's easier this way] -from-the-outside (8%).
So besides a near-death NaCl poisoning, I landed safely in my home town. As soon as I step off the plane, I'm hit by 32-degree (metric) heat and a wall of humidity. We're talking 80%+ here. Ugh! You have to practically swim to get anywhere, and any remaining vestiges of makeup I may have had (I applied the basics at six in the morning to attempt to hide my lack of sleep and avoid scaring strangers, so I'm not sure if any of it actually made it onto my face at the time... I'm not at my most coordinated at stupid-o'clock) melted off my face. In fact I'm pretty sure my entire epidermis melted off. Uh ho... I think I'm becoming a Southerner.
And on the second day of holidays, my home town gave to me; a cyclone in the vicinity...