First off, I have to apologise for the lack of blogging recently, I've had it pointed out to me that I haven't blogged in about two weeks.
This is partly because I've been incredibly slack, partly because I've been struggling with some Trojans in my head a bit, and partly because I've been ridiculously busy, with both social events ('tis the season to be popular), and with uni. In particular, I'm trying to do six month's worth of work (or at least make it look like I've done six months of work) so that I can ask my supervisor for two weeks off in February. I'm hoping it's not going to be a big deal, but at the moment, she (I shall be creative and call her Supe), is quite disappointed with the output of another of her underlings, and as such is not in the best frame of mind for allowing said underlings to go gallivanting off. She really is an awesome human being though, and the main reason I continued with my Masters, instead of packing it all with all that's happened in the last year and a half.
So in terms of skin, I'm blessedly clear at the moment, with only a few whiteheads, some post-inflammation hyperpigmentation (PIH), and of course the evil scarring. I am still getting the occasional pimple (I got a small pustule in my eyebrow again the other day, that still bemuses me!), but only like a 'normal' 26 year-old might. I'm still on all medications (benzoyl peroxide/retinoid gel, 50mg antibiotics and the Pill), but am getting closer to finishing up the antibiotics course; I think I have two repeats to go, or just under two months. Which reminds me, I need to visit the doctor to get another Epiduo script because apparently it's recommended to stay on that for two years. Ugh. Hello, two more years of daggy bleached I <3 NY shirts and peel-y skin.
On a cosmetics update (I know 50% of the population will be thrilled
), I was running low on my previous mineral blemish-coverer stuff, so went out and bought some new foundation (Almay Skin Stay Clear foundation, in neutral) which specifies it is non-comedogenic and hypoallergenic.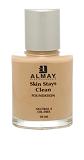 It's pretty "sheer", but that's okay as PIH is my main issue at the moment. Salty Plums. Food of the Gods.
Despite buying a flash "feather light touch foundation applicator" (makeup brush), I have to use my fingers to apply it because I'm a makeup noob. I still want to find a non-comedogenic concealer (any suggestions?), for the rings under my eyes (and any suggestions on how to get rid of these? And if anyone says "sleep more", I will shove my brand-new feather light touch brush up your left nostril), and the occasional times I feel I need to cover scarring (i.e. when I'm likely to be photographed / having a bad-skin day).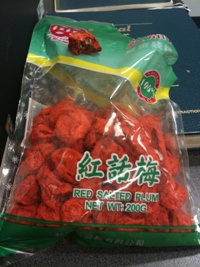 Salty Plums; ten minutes of delicious tastiness, an hour of amusement when administered to others.
At the moment I'm licking another delicious salty plum, which is a salty-yet-sweet Asian delicacy from my childhood (sugar, salt, and some unidentified bright-red "all natural" powder substance, how can you not love that?!). I got my girlfriend to "import" into the state from home for me, and then proceeded to offer them around the office to my colleagues. I honestly thought they might like them, but their faces were frigging hilarious!! As each one tasted it, initially their faces showed polite interest, and you could see them thinking "Hmm, this is weird". Then as their mouths puckered and their eyes started watering, this soon turned to "Oh crap, what have I done??", followed by my personal favourite; "Eurgh, get it out, get it out!!", as they run around like headless chooks looking for water to douse the taste. This is invariably followed by "Why would you eat that?!", glaring at me with accusing disgust in their eyes. Needless to say by this point I am cackling with laughter! I really wish I'd recorded it, because the look on their faces was priceless. But despite their excessively dramatic reactions (think B-grade Western style), and their accusations that I was trying to poison them, I can assure you that they are delicious, and the only downside to them is the telltale orange stain they leave on your fingers.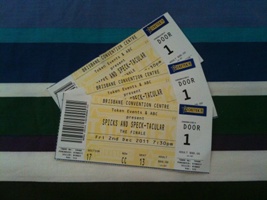 The tickets, to make all of you who didn't bother to go extra jealous.
In my last post I mentioned having tickets to see a farewell tour of the fun music quiz show, The Spicks and Speck-tacular. Well, for those who missed out on the performance, prepare to have your wounds salted (there's a lot of salt in this blog, but I do love salt)... It was ah-mazing. Traffic was atrocious, so we arrived late (Okay I'm notorious for being late to social gatherings, but in my defence the other girls were late too!), and had to stand to the side until the warm-up band had finished their thing. So when Adam Hills (the presenter) was coming on the the stage we scuttled down the aisle behind an usher to our seats, trying to look as discreet and inconspicuous as one possibly can in high heels and LBDs, when moving to your seat in the middle of the row, right up the front. Next thing we know, Adam looks over at us, stops talking mid-sentence, points to us and says "You!". I'm pretty sure the three of us squeaked, and then looked behind us (as you always do, in the fruitless hope that someone else behind you is being singled out) and back at him, while the spotlight thrust the three of us under the hot gaze of a thousand other people. Then there was some verbal but good-natured sparring about where we were from and why we were late, before he allowed the show to continue on its course. Very embarrassing, but very funny at the same time. From that moment on, I barely stopped smiling and laughing the entire show, it was very entertaining. I won't bore you with the details, but after that my friend M and I went out for cocktails, where we spent the rest of the night chatting and enjoying each other's company; no dancing or anything, no guys, just friends. It was a lot of fun.
Since I'm so far behind, I might save some stories up for the next blog... "Next time, on Epiduo Gel, Estelle 35, and Doxycycline 50 mg... Public Indecency: A night of fun, debauchery, and unspeakable acts by unattractive people." Look for pithy updates on my ever-tightening jeans, super crampy-legs, and potential holiday plans.
Instead, for now I will give you a photo update, where I'm wearing my new sheer, low-coverage foundation (and mascara, of course).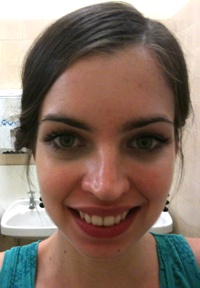 I don't know why it is, but I'm always self-conscious about putting up a photo where I'm smiling. It's ridiculous, I know, so I'm trying to get past it.
To finish off, I thought I'd post the song that I'm obsessively listening to at the moment.