Should I Attempt An Interesting Title?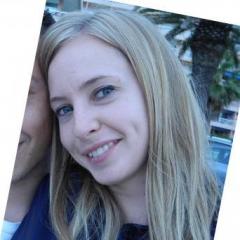 I'm not sure this blog will get more interesting than the title lol. Warning you guys haha. I can't make them as funny or interesting as Paul
Good thing in my life= pretty much everything. It's not perfect, and there's toxic and negative people who want to infect me with their poison, but I remain unstained. My life's been filled with joy and abundant blessings, and I can't wait to give it all away to others. I'm looking forward to February to spend a week with the most amazing best-friend and most precious person to me! I'm not stressing about my skin or having it look absolutely perfect. It's seriously a 180 degree difference than a few months ago. I have my last final this weekend and then a three week break....I can't believe it!!! I'm so ready for REST!!
My skin's had very minor set backs the last few days, and I'm going through a list of possible culprits. The thing I think of first is the most recent thing I've changed to my regimen or diet. So even though I've been loving my skin being moisturized with the Pratima essential oil (that I've been using twice a day since thursday) I've had a few super tiny pimples since then on the T-zone of my cheeks and between my eyebrows. I used the body oil once on one side of my back/one should and back of neck. After running my fingers across today, I'm finding little bumps here and there and on my neck
It seems that my body can't handle any kind of oil. I know I must seem like a perfectionist, but this is how we clog and clog and put crap on our skin until it retaliates and breaks out. I don't want to keep doing this to my skin and making it get worse. My skin is clear enough (especially on my back) that I know a tiny clogged pore will turn into a zit in a few weeks if left alone.
So...do I go to the hassle of returning the products to Pratima? It is SUCH a hassle!!!! They were extremely expensive, but maybe if I use them once in a blue moon (for like for massage? lol yep definitely once a year lol) then maybe I can keep them. I definitely know I can't use them on a regular basis. Sigh. I somehow don't want to feel that yet another purchase is wasted.
The little bumps could be attributed to sleeping as well or not changing my pillow frequently, etc. It could be from my aveda foundation, which has dimethicone listed as second ingredient (but I don't buff the makeup into my skin). It could also be due to that huge pizza I ate on Sunday night! The AMOUNT of food alone will break anyone out, nonetheless the ingredients lol. I've also had dairy here and there the last few days (some goat cheese in a salad but not a bowl of icecream....ok so more like a dozen home-made chocolate chip cookies!!!=heaven in my mouth), so maybe this is another culprit? They don't seem hormonal though, even though that's supposed to happen any day now
I got one pimple on my upper lip (pretty minor) and those I'm almost always sure comes from milk. But all these super tiny pimples seem superficial.
I hope this could be read despite my ADD tangents and thoughts amidst of a thought lol. Never stop looking for your cure!!
Ok, so I thought I would attempt to salvage to make this blog worth viewing, so I'll upload pics. for those of you who are too embarrased to take pics with no makeup on or skin looking its worst. TAKE THE PICTURE!!! You HAVE to chart your progress or digress, so that when things do get better, you can be thankful that there's improvement. These pics aren't photoshopped but I'm wearing makeup yet you can see the one on my lip. It's actually more of a clogged pore and not a pimple, but my skin is so fair that it stands out even with makeup!! lol skin is looking pretty good. For those of you who haven't been aware of my journey, I'll show you a glimpse. Ok, so I just have to throw in an old pic from Jan 27th of this year before I came to acne.org and my whole process and search for my perfect regimen and clear skin started... I honestly cringe looking at this.
Actually, this pic doesn't even show HOW BAD my acne was, because it doesn't show all the nasty and painful cysts on my jawline and neck.

I have taken over 200 pics this year tracking my process, and still counting. You can see how much pain I was in.
Thank God that's long behind me!! Praise the Lord for healing my skin!