103 Days! - Quick Update (Pics)

Entry posted by Renn17 ·
362 views
Another quick before & now picture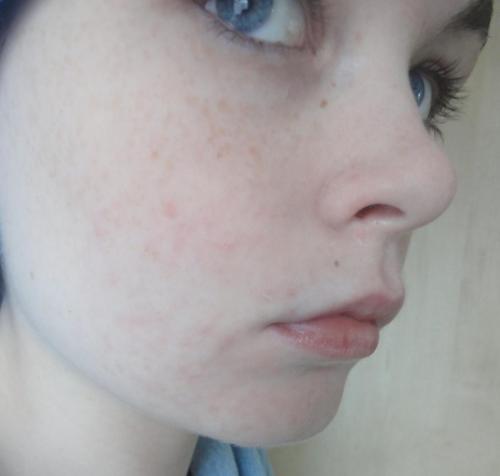 Obviously there's a huge improvement but I've still got red marks that are difficult to see on that picture because they kinda merge with the freckles. The ultimate result would be my face skin looking like the skin on my neck, that would be incredible.
Side Effects update:
I've noticed that under my eyes is a lot darker than usual, and it's very obvious when your skin is as pale as mine. A teacher literally asked me if I was ok today because I 'looked so tired'. I'm hoping this is just due to fatigue and not a sign that my liver is struggling with the meds. I'm sure I was due blood tests but the docs didn't tell me to book in for some so I'm a little confused about that.




My lips crack and bleed almost every time I smile. I also just read that petroleum jelly Vaseline shouldn't be used on dry skin because your skin doesn't absorb it and it actually makes lips drier in the long-term. I'm gonna buy some cocoa-butter or Aloe Vera Vaseline instead because lips only absorb natural oils.




Tiredness has returned. I had a good 8+hrs sleep last night but I came home from school and went straight to bed for a quick snooze.




On the plus side, I found out that my moisturiser has been triggering off my moist moustache. Since changing it to a less rich one my sweaty lip is easier to handle-Down boy!



Been reading loads of accutane topics on here and I'm already worrying about when I stop my course and stressing over whether I've permanently killed acne or if it'll creep back after a few months. My parents keep telling me not to worry because adult acne doesn't run through the family but is that all that it comes down to? When people have been on accutane and their acne comes back, is that because they have 'adult acne'? There's bad hormonal acne in the family but I could be the odd, unlucky one who has something a little more complicated than that. I know I just have to think positive but the thought of going through all this for only a few months of clear skin seems so unfair, I want lifetime good skin! (who doesn't?) It seems success stories (as in years later they're still acne-free) are very rare compared to returning acne stories.