Stubborn Left Cheek Breakout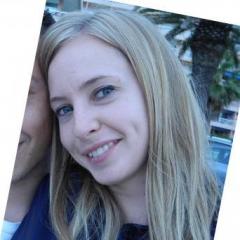 Everywhere else, my skin is clear- almost 100% clear. Some tiny bumps here and there on my chin or jawline, but these disappear. One side of my face looks pretty awesome, even despite the recent red marks. (The old ones have dramatically faded btw). It's probably a combo of the finacea and papaya soap. However, I seem to constantly get these tiny pimples still on my left cheek. Maybe it's because I tend to sleep on that side more? Right now they aren't cysts but tiny pimples...always a cluster in the same area. I'm hoping that finacea will continue to work! I also understand it can take some people a long time of using finacea for it to rid their stubborn acne. But maybe they pop up because that's were I mainly apply concealer. I used it quite a bit the last few weeks to cover up the recent breakout! Ugh. I don't want to perpetuate the cycle, so I'll just have to stop using the concealer unless ABSOLUTELY necessary.
The cyst thing on my jawline is still there- but it's not as inflamed, raised, swollen, or red. But....it's like a tiny hard ball in my skin. The other's have faded for the most part and neck and jawline is no longer sore.
The essential oil for face and essential oil for body have arrived..and I cannot describe how good they smell and feel. I almost gasped when I saw the size of the tiny 2 oz bottle that was 34 bucks! I thought it was maybe 4 oz at least. lol Anyway, this stuff smells and feels amazing. It doesn't even feel like oil-its like rubbing silk in my skin. I put my moisturizer in the palm of my hand, put a drop of the oil, and then mix it a little then apply it. It actually makes the lotion go much further an I don't need as much. I can see why they recommend using the oil with or before applying moisturizer. Surprisingly, my skin isn't oily. It's not even really skiny-but almost a glow. It really sinks in my skin.
I honestly don't know how I can keep up with the expenses of all the products I'm using. The items in my bathroom are probably worth more money than anything else in my house! ok, maybe not my mattress. My friend spent the night and said that I smelled really good lol. It's the oil! I put the body oil on all over (even back and chest) and my skin is soooo soft. Hopefully I don't breakout or get little bumps everywhere. I was just going to put it on my legs, but once it was on, I HAD to put it everywhere lol.
My friend whospent the night uses the Regimen daily. (She actually told me about this site back in January). She even uses the BP all over. Though she's clear on her face, her back is covered with bumps and some minor pimples. I gave her the remaining tube of my Veltin to put on her back, so hopefully this will help her! I just felt bad, because I remember it was just in August that my skin was like that.

I'm so desperate to clear others skin!
I recommend, for any of you on accutane, to invest in the essential oil from pratima. There's all kinds from acne prone skin, very dry skin, or all skin types. This will save your skin!! I actually need to test it for a few weeks to see if it will break me out or not. I'm 90% clear I guess (?) I haven't had any major breakout since mid september (besides this allergy one). Hopefully, I will see on other parts of my skin if I get little clogged pores or red bumps.
GREAT NEWS!!!!! My boyfriend is visiting in February!! I hope all this joy I have will clear my acne alone lol. If my skin stayed like it is, I would be very confident around him, and not worry that he's kissing or touching a face full of acne. I will see him in 58 days!!! Praise the Lord.

Ok. Homework time.