Back From Random Hiatus-Ville?

I just finished reading my one and only entry from nearly 2 years ago, and have no clue why I stopped writing. I do know that I did find some success on the regimen, but did experience major flare-ups because I was not following it diligently and eventually forgot all about it because I was so focused on finishing high school and completing all my work (I took AP classes so the work load was heavy and I graduated with a 98% average on the honour role).
I eventually lost my acne.org regimen products in a move last year as well because my dad's friends threw it out mistakenly...I was pretty mad considering I wanted to start up again. I successfully aced my first year of university and made Dean's Honour, and I guess in all that excitement somewhere along the way I forgot about improving my skin.
I guess you could say I was absentmindedly attempting to get rid of my acne but not really being as diligent as I should have. I'm now halfway through my second year of university and I've made some changes in my life with respect to health, including the decision to attack my acne all-out and consistently before resorting to Accutane.
There are many things in life that we can't control and although acne is one of them, I feel like I'll never know what my face looks like clear if I don't do some sort of regimen diligently. So this time around I'm committed to a regimen following the tips specified but using my own products (which have been approved under products that can be used from the store on the regimen). I know that in the end I might have to try Accutane because my acne is so persistent but I want to give all my other options a fair shake, because ultimately I need to do this for myself and to gain back some lost confidence.
I would say that I've had some minor improvements in the last couple years, and definitely in the last 5 years, but I do not have the clear skin I want and think I can attain. I'm not being overly optimistic, I'm just expressing that I need to try a diligent routine before I jump on the Accutane bandwagon. I would say that I'm fairly confident and not 'depressed' because of acne, I've come to a point in my life where the emphasis on other accomplishments and other things I love to do has allowed me amazing confidence and experiences. Nevertheless, clear skin is a major goal for me and something that is important considering I've battled acne for nearly 9 years.
I'm going to end this post highlighting the products that have worked for me. They might help some of you out there, I'd love to see different thoughts on them as well as any tips members have to share. To note, I am not suggesting that because of my successes with these products that they will ultimately work for everyone. Acne is triggered differently in everyone, we are all unique. In the same way, a great solution for one person might be horrible or ineffective for another. I'm just making some suggestions for those who are willing to try or looking for some topical solutions.
1. Cetaphil Gentle Skin Cleanser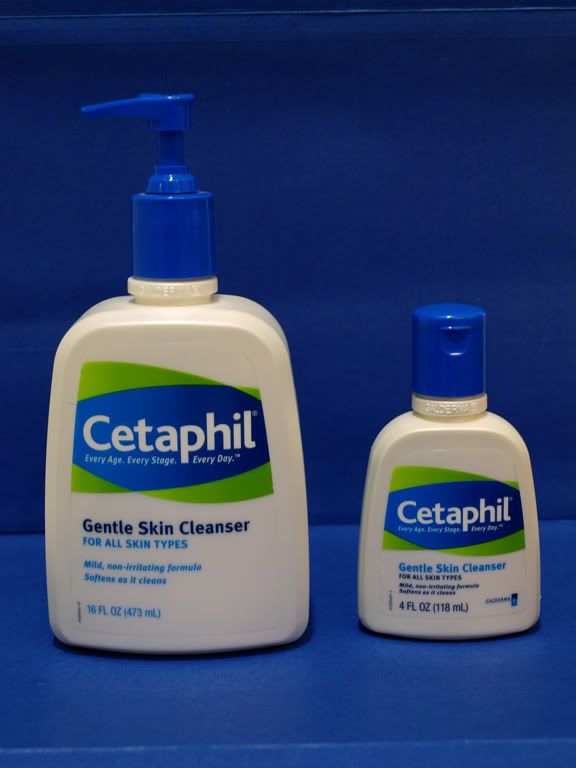 In my opinion, this is an amazing cleanser. I have oily skin and it helps to control my oil production and leave my face feeling clean. I also find that it soothes irritated skin and acne that has become inflamed, while also alleviating any redness that may occur. As many acne sufferers are aware of, finding good cleansers that will not aggravate acne further or dry out your skin is extremely important. I would say Cetaphil's Gentle Skin Cleanser is a great choice. In my case, Cetaphil was recommended to me by my dermatologist but I fell in love with it after a week of using it. Although I have not always been diligent about my acne regimen, I always washed my face and continue to wash my face with this cleanser ever since I discovered it. I would call it a must-have if you are prone to irritated skin or inflamed acne. Note: Cetaphil also has a cleanser specifically for oily skin. I only tried a sample of it once and found it to be too drying, even though I have oily skin. Others might have positive experiences but I would suggest the gentle cleanser for full benefits and to avoid dryness. As an aside, the pump can sometimes get stuck which is annoying but I've found that keeping it clean and dry will help to avoid the problem. The larger bottle where I'm from costs about $18 - though it can sometimes be found on sale for $15. It is expensive on sight but the bottle lasts me about 3-4 months so it is worth it.
2. Cetaphil Moisturizing Lotion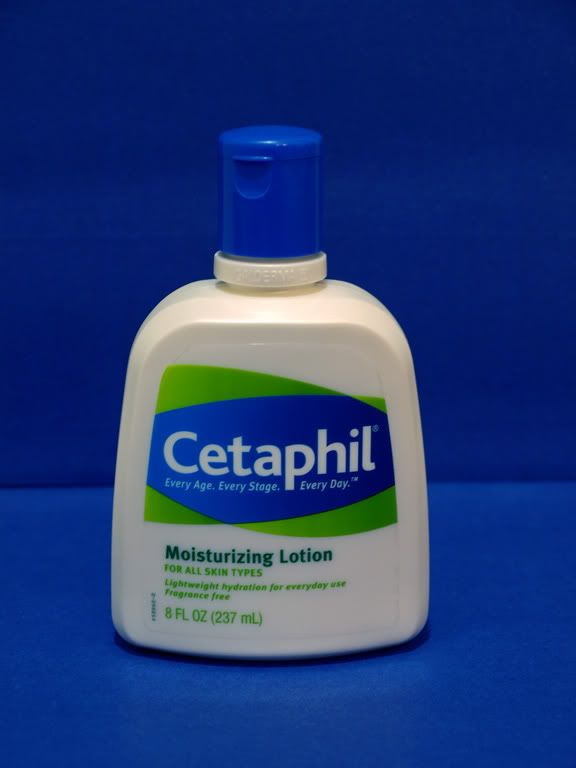 Like the cleanser, if you buy the larger size it is an expensive cost initially but the large bottle lasts about 3-4 months for me using them morning and night. The pump issue I find is mainly with the cleanser. In terms of the actual product, I love this moisturizing lotion and have used it ever since my dermatologist recommended it along with Cetaphil's cleanser. It soothes your skin, especially if you're using BP which can irritate the skin and cause it to be red and flaky. It does have a bit of a 'sticky' consistency or feeling when you first put it on but once it absorbs the feeling goes away. However, using jojoba oil with the moisturizing lotion eliminates this sticky consistency immediately. I tend to use jojoba oil at night because it can make your face appear shiny, but I've found it an amazing asset to the moisturizing lotion.
3. Jojoba Oil
Note: This is not a picture of the actual brand I use, but I will provide a link to the product I use. I'm fortunate enough that my mom's friend owns a health food store close to my home so I have easy access to get this product. I love jojoba oil, it totally controls my oil production and soothes my skin along with my Cetaphil lotion. I also use it for my hair, nails and on my lips after I've applied lip balm for extra conditioning. It's a great product with many uses. I know many will be hesitant, especially those with oily skin because it is an oil and you might think it will clog your skin or make you break out more. While some people may experience this, I have never had that experience and have only seen it add to the results and progress of my acne regimen. I only use it at night on my face because I find it to be shiny even with a couple drops and I don't want to have the appearance of being greasy all day long. However, even though it is shiny, it is not greasy in consistency and I have not ever felt greasy in applying jojoba oil.
Here is the link to the one I actually use: http://www.gnc.com/p...oductId=2188173
4. Aveeno Ultra-Calming Moisturizer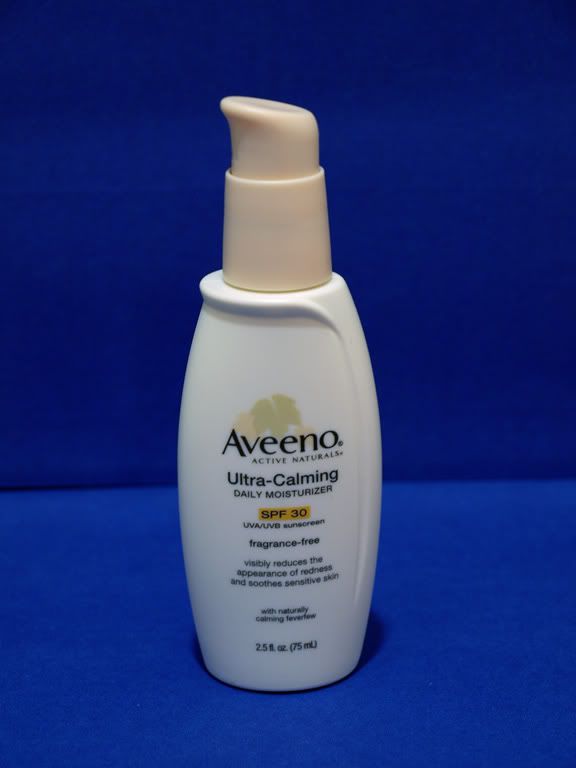 I also love this Aveeno moisturizer as an alternative to the Cetaphil moisturizer. In addition to the same benefits as Cetaphil, it does not have that sticky consistency and brightens your complexion. I use it intermittently on my regimen. I have not used the accompanying cleanser yet but have heard wonderful reviews and may try it someday.
In terms of my topical treatments, I use 2 prescription creams that are covered by my dad's drug plan. One cream contains 2.5% BP in a gel formula, called Clindoxyl (This may have other names in different countries or under different brands). I also use a tretinoin-based cream at night (because it gets so white on the face until it is absorbed). My cream specifically is called Stieva-A. This cream is amazing because it has prevented me from scarring while helping to mend acne and soothing my skin. It also alleviates any redness. I put it on at night and by morning redness and size of pimples are diminished greatly.
And that's it! Let me know if you try any of these products and what you've thought of them. I'm also open to suggestions for new things I should try. I have oily skin and moderate acne if that makes a difference in your choices or recommendations.