Christmas Art, Hasidic Music And Kinky Work-Outs

I spent some of the day painting, and nearly completed my littlest sister's Christmas present. It's kind of a Van Gogh, Kandinsky and Picasso mish-mash (read postmodern pastiche) of somewhere in Venice at night. I may have to change the bottom right hand corner as it's looking a little brown and murky. It's the first time I've properly used oils, I'm usually too impatient, but I kind of cheated and used acrylics for the background.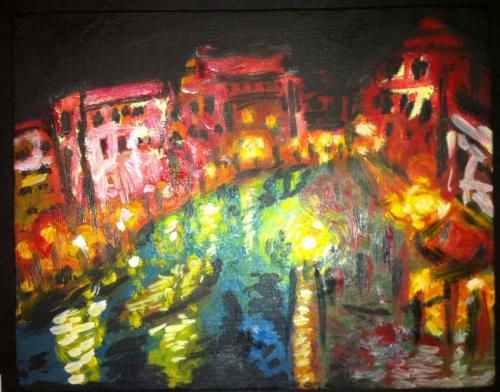 This year, my Christmas presents will decidedly all be artworks. Because I have car registration, and moving house at the same time. One of my friends actually suggested it, so I've been running with it. Although coming up with ideas for five different artworks may be hard...
On a related note, I read through Pygmalion by Bernard Shaw the other day. Brilliant book, I loved its poke at class hierarchies and social conditioning. Apparently it's the book that My Fair Lady is based upon. I also borrowed a whole lot of art books (for inspiration) and a new Stephen King novel today. So I'm excited to do some reading this coming week.
Have you not had your hit of Hasidic Reggae today? I think you should indulge. I'm obsessed:
Bad news. My skin has broken out a bit. It seems I have to constantly keep up the Selsun for this seb derm on my face. It's really stubborn. And a few pimples are raising up on my temples. I must stay vigilant.
Quirky news. I did a workout with my roommate J-Dawg the other day. His girlfriend came to watch, as it was just in our back shed. So we were working out, building up a sweat and the entire time she's staring at J-Dawg with this flirty smirk on her face. Then, once he's grunted and sweated out a particularly difficult set, they go and hug each other. Just to prove that she can handle getting sweaty. They'd actually kiss between sets. That is the last time I'm working out with them. I feel uncomfortable just talking about it. Urgh. He also bragged to me about doing squats, lifting her, in his bedroom. Some kinky shit there.
Good news! I've picked up some more shifts for the next few weeks. So I'll be out and about and paid. I also applied for another job in the same field. I'm not sure that they had any current work available, but my friends have worked with this organisation in the past and they seem to have a fair amount of casual work available. I'm hoping I'll get something by January.
Oh yeah, and it's my Nan's 85th birthday today. I called her a little earlier. She's so funny. She told me that I shouldn't call her because she only has bad news: my sister may be coming to stay next week. I told her not to expect a call for another year. She laughed and said gladly.