94 Days! - Winter Illness And Dog Bathing

Entry posted by Renn17 ·
280 views
I am so ill. My throat is dry and tickly and my eyeballs feel like hot coals. I'm so out of it that I got up this morning, picked up my advent calander and opened door 3...and carried on opening doors! I opened about 6 more until I realised I was only supposed to open the one. Oh well, might as well eat the rest now. The cold weather is really hitting hard now too, so my skin is extremely dry on my hands and lips, to the point where I can't wash the dishes because they crack and sting. Oh my. What a shame.
I sent my UCAS off yesterday, so this time next year I could be studying Psychology at University! My choices were Psychology, Psychology with Counselling and Psychology with Criminology. I'd rather Psychology on its own because I prefer the University, but I'd be happy with any really. Think that's what I need, you know, a massive change in my life to get myself to where I want to be psychologically (no pun intended). New friends, new surroundings...a fresh scene.
I'm going to help my mam bath my dogs today because they smell horrible. I have a feeling when I'm brushing them a dead guy will just tumble out from their fur, and I'll say to myself 'THAT'S why they smelt like decomposing flesh!...oh dear.' Ollie loves getting washed, he likes all the attention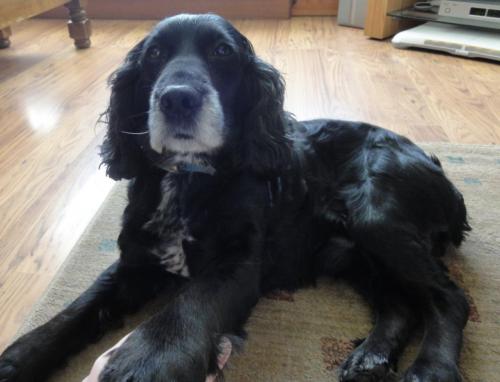 By the way, even though he has grey on him he's only 5. He was the last puppy to be picked because he wouldn't be allowed to be entered in dog shows with his little patches on his face and paws
I feel we're alike; his grey is in my acne-zone, and he feels rejected and bitter
We were made for each other!