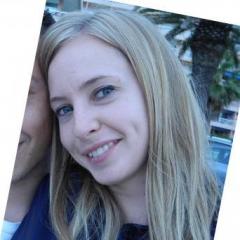 So like always I spoke too soon.
Unfortunately, the three pimples that seemed to be very minor have grown to these rather large pimple/cyst things
They are all on the left side of my face. One is in the area where I really struggled with cysts, and this one looks like it's gonna scar. There's no head...its just big (well...maybe not that big). Then there is one on my jawline that you can't really see. Then that same one that is rather healing and flattening.
A few days ago, I applied a small sample of the sandalwood mask that pratima sent me. In those 3 areas/pimples, it was tingling really bad though it didn't really hurt. I thought, "oh its good it will just zap them!" All the rest of my skin was glowing after I washed off the mask.
Flashforward 2 days and they are huge. It's like....the mask must have brought it to the surface or something. I'm not sure how to treat them, since applying a dab of finacea isn't taking care of it. Maybe neem oil again? I dabbed on some veltin on the three spots, and they are lightly tingling. Hey, that prescription is very expensive, so why not use it..hopefully it doesnt many my overall skin/surrounding area worse.The sad thing is even if I don't touch these pimples or pop them, they will scar- at least the one on my cheek. Ugh.
I guess my days of indulging in chocolate, cheese, bread, and anything else (canned food/chili, frozen strawberries, tomatoes) are over... I have to be motivated again not to eat dairy, gluten, or caffeine. In the last two-three weeks, I've had 2 or 3 soy chai-tea lattes total at starbucks. I almost never drink anything from there since I dont drink caffeine, so I'm wondering if the breakout is from that.... Seems that chocolate breaks me out on my rights side around my jawline/cheek/mouth area. I believe the iodine foods like strawberries, eggs, and tomatoes cause breakouts on the left side. I've had a lot of mayonaise lately in tuna salad and sandwiches..
Or it could be from the conditioner I use. The skin on my back is so clear now (practically 99%) that if I get a pimple I can trace it to some cause- usually irritation from soap/detergent. I noticed I started to breakout on my back all of the sudden when I tried the Aveda conditioner a few months ago. Now I just flip my head over and put it on the ends, and rinse it out without letting any of the run off touch my body. A pain, but the ends of my hair can get too dry without conditioner. Like...Friday I washed my hair, but I just tilted my head to the right side, and some of the water ran down the left side of my face/neck. I thought "oh no, I wonder if the conditioner will break me out..." and you know what? Almost in the exact same areas that I felt the water run are the exact same areas I have these 2 pimples.... hmmm. I guess I need to be very strict how I use/rinse this conditioner, or just give it to my sister to use since it doesn't seem to bother her.
Anyways, I don't want to be hard on myself, since my overall skin is looking really really good (a little dry today though). I think they are related to my diet because it's not the "superficial" acne that you get from resting your hands on your face, using the wrong skin products, etc. These are the deepish ones....that I don't want to mess with. Sigh.
Oh well. Just notes for me to keep track of. Need to get back on eating "healthy" and making 90% of my own meals. Problem is I don't want to be losing weight again. I'm only 5"5 and already 110 pounds. I used to be close to 120 pounds a few months ago...