91 Days! - Staph Infection Of My Complexion.

Entry posted by Renn17 ·
894 views
I managed to find a picture of my skin when it was all disgusting and had a staph infection. I was on 4 flucloxacillin tablets a day for, I'm not sure exactly, but a long time. It died out eventually, but I felt so crap when I had it, like I was diseased.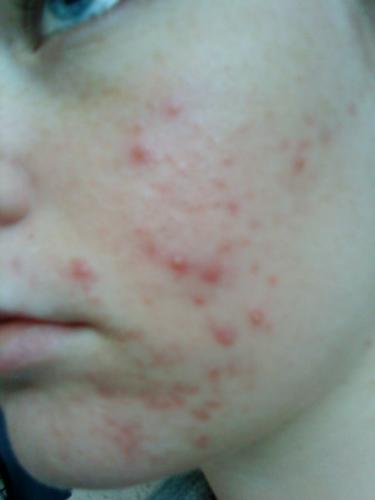 It's not great quality because it was taken on a mobile phone. I wish I had taken proper photos of my skin when it was at its worst but whenever I did take some with the flash on I would get too upset and just delete them. Just happy I'm not in that situation anymore!
I must mention the 'vulgaris' thing again, because I found out it doesn't derive from the word 'vulgar' but is 'a Latin adjective meaning common, or something that is derived from the masses of common people'. They should still call it something a little less phonologically negative, like acne popularis or acne alltherangeis, even acneuniversalis (but that one sounds a bit like a theme park).
My dry skin is getting easier to control because I'm in a routine of moisturising now, but the dry lips is still bad. My toes are hurting, like an over-sensitive feeling, and the moist moustache is creating a little river valley in my philtrum which could end global water famine. My hair is dry so I have to apply deep conditioning masks and my eyelashes are thinning/eyebrows are becoming gappy. However, they're still outweighed by the side-effect of returning confidence and the concept of clear skin, so thinking of the long-term it's no big deal.
Since my confidence has been creeping back I've been thinking more and more about Summer, when it's 'prom'. I'm saying 'prom' because nobody wears typical meringuey dresses and you don't have to bring a guy, because we're from an all girls' school and, well, we know we can have a good time without them. It would be nice in a way though, to have a guy to bring, especially if it was that guy I mentioned many entries ago, but it would be way too Hollywood for that to happen
I might just drag a random drunk from the street, give him a quick spray to mask that musky 'I was just sick on myself and ate it' smell and introduce him as my dedicated partner, just for effect.