I'm not really a sporty type of person. I like playing sports, but I get frustrated because I'm not the best at them. And I always have to be the best at everything. Which is why one of my favourite sports is tennis, because I'm better than most of my friends, so I actually enjoy it. I'll have a go at most other sports, but I don't particularly play much else on a regular basis. Today, at work, we had Hydro Olympics. Which was actually quite fun. I got to push, pull, and prod my client around the pool, and we came second in a race (because I started running up the pool and dragging my client with me) which I don't think they counted. But we came second, that's all that matters. Our team also won the rob-the-nest type game. So a day well spent. Except the fact that I didn't: (a) bring enough money for the day, and (b) we forgot sunscreen and a spare pair of underwear. I may get a mild bashing next time I work, for such amateurish mistakes, but considering it was only my second day shift with said client in about a year, I think I'll be forgiven. Oh, I also got a free cupcake off my roommate's girlfriend (who is a full-time assistant at my work) and scored a couple of chilies from their garden and a copy of Catch 22. Not to mention the free lunch and drinks at Hydro Olympics. All-in-all it was a day full of bonuses. How can I possibly complain?
Sadly, I also got a bit of free sunburn. I'm afraid this may be so severe that it will peel. So I shall soon be a flakey, cancerous, brown demi-god (I'm thinking much like an old Golden Buddha, whose tarnished skin is chipping away). Which reminds me of The Mummified Monk of Koh Samui. The story goes that this monk was an inspiration to the whole of the island. He was a buddhist teacher who prior to becoming a monk, was a local family and business man. In 1973, at the age of 79, he sensed that his death was imminent, so he called upon his students to carry out his last wishes. They were, that if his body was not decomposing, that they leave him displayed in a temple, as inspiration for others to follow Buddhism and be saved from suffering. He then spent a week in meditation seeking enlightenment, without food and water. He died in his meditation position, and he has not decomposed (well he has a little) but considering it's been about 40 years, and he just sits in a glass box, it's quite amazing. I thought that their must be some other explanation to it, like that he was simply in an air-tight, temperature controlled container (but no, it's just a glass display case), or that they had used some sort of preserving chemicals (formaldehyde?). But it doesn't seem like that would have occurred either. So I'm still stumped by the mystery of this monk. I want to be immortalised!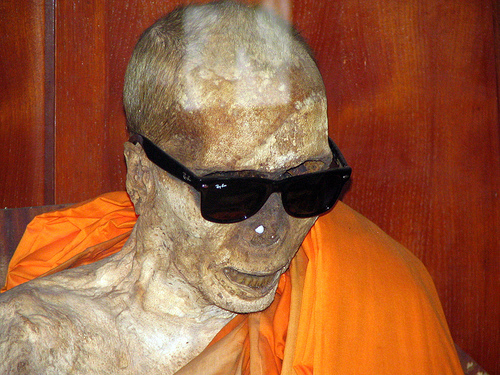 So apparently the douche-bag roommate will be living with us for another six months. I was disappointed when I found this out. But his attitude seems to be getting better, as his pot-smoking girlfriend has left for Argentina, and he's found a new job. Which is good because I think he really hated his old job. So maybe he'll generally be a nicer person and contribute to housework more now that he's smoking less pot. But this also means we now have to find a house, which is what I didn't want. Because they're large and require more cleaning and involve maintenance of lawns and gardens and everything. Sigh.
Well, that's it.