So I'm trying to figure out what to write. There are several thoughts that are semi-coherent enough to share. I'm not really sure if other bloggers are liking my daily updates, or more like shut-up I want to write a blog and not have to comment on your annoying ramblings. I've thought about writing about my Sunday, the one where I went to an advent meeting then to a Christmas party at my favourite Brothers' place. It could be done. Let's just see where the universe directs us, shall we...
I had a dream (of the non-revolutionary kind), in the not-so early hours of this morning, that one of my friends in real life also read acne.org and stumbled across my blog, and drama ensued. I'm not exactly sure about the specifics of said drama, but it definitely ensued. The one problem with this dream was that this friend has perfect skin (I could eat off his face). Although, I could imagine him creating an account just to hit on women. You see, he's quite an interesting character.
He's planning on saving to jet-set off to Japan, where he will spend the rest of his life cavorting with Japanese women (okay, maybe he wants to settle down with one). But that is seriously one of his main reasons for going to Japan. He also loves anime, hardcore music (he's a drummer), film and Japanese videogames (think RPGs like Final Fantasy or Kingdom of Hearts). He is also one of the most frustrating people I've ever known. I like hanging out with him but the way he deals with money and planning is hopeless. I mean I've been in a band with him, and I think he just wanted to make it, so he wouldn't have to figure out what he was doing with his life. He dabbles in film, he has never actually had a job in it, but he's done some sort of certificate in it, and he volunteers a lot of time to local projects. Which, I understand, is a difficult industry to break in to. He works as a bouncer at local clubs (I think), he also does some disability support work. I have seen this guy waste year after year, just doing the bare minimum to get by, claiming that he needs the extra time to work on film projects, and then spending all of his meagre earnings on new series of anime, videogames, and clothes (do you really need that pair of crocodile-skin pointy leather shoes?) while he eats noodles, and constantly sells and buys a new (secondhand) car because he'll need the money to head over to New Zealand or to invest in a new computer. In fact he once bought a cheap BMW. Surprise, surprise, it broke down in the space of 2 weeks, and would cost several bazillion dollars to fix. Have you ever met someone who just frustrates you because their life lacks purpose or logical decisions?
I must admit, drifters, or floaters or whatever other euphemism there is, annoy me a lot. I always want to briefly take-over their lives and instigate a five-year plan. I just don't understand how you can live without being concerned about your future prospects. I understand if you're more creative, then it's difficult to "make-it", but I don't understand why you wouldn't have several back-up plans, in case your plan to be the next Rowling, or Mick Jagger, or Spielberg doesn't quite come to fruition. Can you imagine how good a dictator I would be? Everyone would have to have a career, and "Stability," said the Controller, "stability. No civilization without social stability. No social stability without individual stability." everyone would be on drugs, to balance out the undesirable parts of their personality. - Brave New World.
That reminds me of one of my other favourite books: "The Beach", yes, the movie is ok, but the book is much better. I found a copy of this book in a secondhand book store on Koh Samui (a Thai island) it was the whole of 300 Baht for three books (that's about three dollars per book). And I think reading this book, whilst actually on the island, and visiting the locations that the movie and the book were set on, was one of the most satisfying literary experiences I've had. There's nothing quite like going to Koh Phi Phi Leh and finding it swarmed with tourists, and whispers of folk law about how the Thai Government was outraged that the film crew had set-up toilets, etc, on the island, destroying some of its natural beauty. Which is why they now charged a good 20 baht for access to the island (to keep it clean, of course). Then being offered a puff of a spliff (which my roommates gladly took up, despite Thailands' near psychotic drug laws) by our enthusiastic boatsman. Even so, you can still imagine living there, in paradise, no worldly distractions, everyone being a floater (on second thoughts, maybe I would go insane). Aptly we stayed at a resort known as Utopia on Koh Phi Phi, this was probably my favourite respite on our trip, even though I was probably the most hungover I'd ever been after the notorious Full Moon Party, it was a beautiful place to feel nauseous.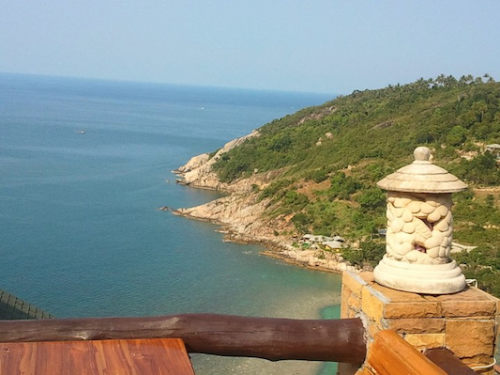 Sadly, I didn't have a camera for the trip, so I have to rely on the dodgy shots of my fellow travellers. Otherwise I'd have a lovely photo of Maya Bay.
Alright, I think I have reminisced enough for today/waffled on about nothing. My skin is looking a little clearer still, the seb derm is especially withdrawing, which I'm really happy about. Plus I upped the amount of BP, like I said I would, and felt a particularly satisfying
burning sensation after applying the AHA last night. I also popped a couple of those little skanky pimples around my lips.
Time to go study org chem and physics! (or kill myself)