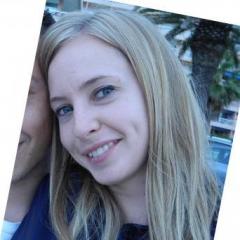 I haven't updated in a while, or at least don't have much time to. I don't really have anything to update on, besides continual progress! Currently, there is no active acne on my face, but I have one huge volcano on my neck haha. The Finacea gel seems to do really well at getting pimples immediately, no matter how big or inflamed. But I haven't had one on my neck in a looongggg time. I'm wondering if it's caffeine or dairy? The scaring one my cheeks seem to fade as well- and the pimples I get don't seem to leave a super nasty red mark...The places on my cheeks where my dimples form seem to have these little pitted scars in the center.

I hope this goes away!!!
Anyways, I have eaten nearly everything under the sun the last week- airpopped- popcorn, 2 McFlurrys, mcdonalds french fries once, In'n'Out burger once, lasagna a few times, cheese almost every day, etc....my stomach seems to be fine, though I'm not as "regular" as I was when I wasn't eating cheese. I've been staying up late the last few weeks and haven't taken my supplements. The sinus headache and congestion has become worse now and is an actual head cold now. I've been around a lot of sick people, so it's probably my turn. However, I seriously notice a huge difference when I eat dairy now. I am WAAAYYY more congested. Ugh....why me? lol.
Overall, I am very please with my skin, even without makeup, and my family continually compliments me

I am so relieved they are giving positive feedback. I really like the Aveda makeup and the new moisturizer I bought from Pratima. I'm encouraging my sister to try the regimen and use the moisturizer I have, but she is so stingy. To me, there's almost no price I wouldn't pay to have clear skin. It is so worth it to me to buy quality products that won't harm my skin, than to expose my skin to crappy industrialized mass produced skin products. So far my skin regimen is good and I have almost no clogged pores or bleackheads...maybe my nose. I'll take pics tomorrow morning of what my skin looks like when I first wake up.
My sis and I stopped in sephora, and I nearly wanted to gag at all the displays of all these chemicals and makeup that seemed to vomit "I'll give you acne!! Buy me!!!" I felt like I was getting acne just looking at all that crap. I felt bad for a young man behind the counter, whose face looked like shiny wax. You could see every tiny bump on his face through the amount of liquid makeup that was thicker than the ozone layer. He seemed offended when my sister said she doesn't want to use liquid makeup he recommended her. So anyways, I'm glad those "cake-makeup" days are over!
That's it

I'm soo glad I stopped considering accutane, and continued searching for a regimen that would suit me. Best of luck everyone! Don't give up, even if there is a bad IB!