Okay this is only going to be a quick update to make sure I don't fall too far behind, and to act as an incentive for my spotty friends to blog.
Following on from the issue of allergic reaction/irritation, this was me by about 2 am on Monday night: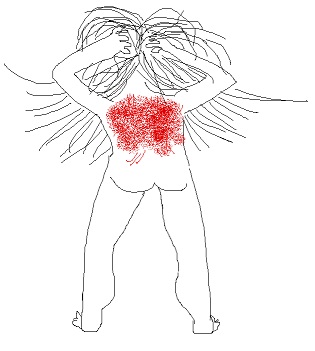 Schematic depicting extent of discomfort resulting from contact dermatitis. Subject was medicated with antihistamines (Phenergan 25 mg), which succeeded in subduing symptoms significantly.
So I have a shower and become intolerably itchy (everything was itchy; my back, my skin, my eyeballs?! I wanted to rip my hair out just to be distracted from the goddammed itching!), and at 2 am when I couldn't lie still let alone sleep I dosed myself up with Phenergan (an antihistamine). Now I don't know if you guys know Phenergan, but let me tell you it's fantastc. This stuff knocks you out for a solid ten hours, and since I'd set my alarm for 6 and a half hours later, I was a complete zombie when I tried to get up. I'm talking incoherent, zero motor skills (I was completely unable to open coffee container, and so just stood there looking at it for about twenty minutes), brain-dead shell of a human. Okay even more than human. But after about two hours and several coffees later (okay four. It was four. Don't judge me, okay?!), I began being semi-human again and dragged my sorry bum into the office. Oh yeah, did you see my calves on this one? I'm having calf (calves?) envy, so took artistic licence to make mine a bit perkier.
Tonight was really nice. It was my friends twenty-nin *cough* I mean twenty-second birthday, so we went around to his place for a glass of wine and to watch a movie (West Side Story. Yes, he is gay). Despite being "a classic" that one like ten Oscars or something, I'd never seen it (I'm not a big one for musicals), but I actually enjoyed it (less for the musical part of it and more for the ridiculous hairstyles and hilarious fight scenes- really, they're terrible). But the real winner of the night was the triple-layered chocolate cheesecake my girlfriend made for him, containing white, milk and dark chocolate layers. Godly. Ah-mazing. Seriously, death by cheesecake (*drool*... but what a way to go!).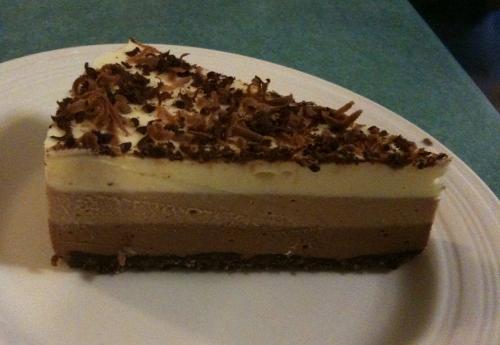 The Cheesecake. Needless to say I now can't move, and am pretty sure I am now experiencing the sugar comedown. It's not pleasant. I am going to need more. This feels wrong. Gotta fix it. Where can I get me some sugar?! Maybe I can steal some...
To cap off the night my girlfriend and I drove up the mountain (in her incredibly scary tiny car with questionable breaks and weird smells that percolate through the car whenever she tries to accelerate from stopping at the lights) to the lookout, which overlooks the city, river, and surrounding suburbs. The view was breathtaking, and it made me so grateful to live in such a beautiful city (despite it being really freaking hot during the day at the moment. Oh, and did I mention my light/fan is broken? Horrible). It's one of those things that you really should do as a romantic date though, since everyone else is all so... couple-y, and smug. Granted I had a moment of insanity when I wanted to pour my bottle of water over the several couples that were making out in their cars in the car park (purely out of issues of modesty, and not spite and jealousy at all, of course), but I resisted, it was beautiful and cool, the view was spectacular, and so all was well with the world.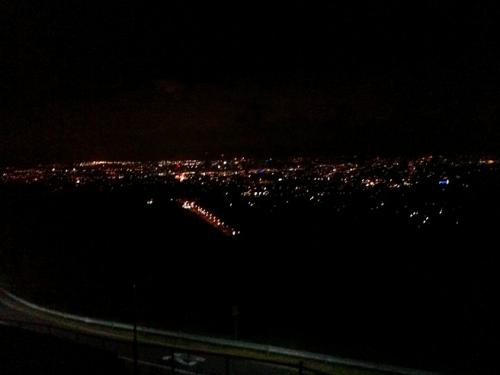 View from the lookout. What you can't see is the thousands and thousands of lights, some stars (including Orion), a beautiful heavy ripe moon the colour of maple, the river, and a dude that looked quite a bit like fellow-blogger Om. Seriously, I actually did a double-take.
Now I know you'll all be jealous of my superior photography skills, but it takes many years of practicing blurry shots to get this good, so don't hate the player.