I am so itchy. This must be penance for an evil deed I did over the weekend. Or I could be having an allergic reaction. Either way I need to handcuff myself to my desk so I don't scratch all the skin off my back. The reaction started a couple of days ago, but at first I was paranoid it was a fresh crop of spots (it looks somewhat similar to when I started breaking out) so kept applying the Epiduo. And now it's not improved I'm concerned it might be that that I'm irritated/allergic to.
I have helpfully attached a diagram illustrating the location of the contact dermatitis, as inspired by another member's post, which was bought to my attention by a fellow spotty blogger. Now I know it's scarily life-like, but please be assured that's not me standing butt naked in front of you, sorry. And before you ask no, that's not arm hair poking through, I have long hair!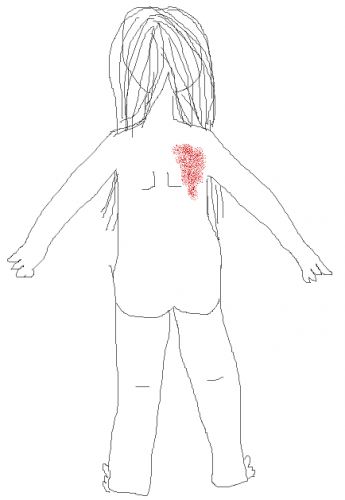 Schematic depicting extent of contact dermatitis. Cause (irritant or allergy) of reaction remains unconfirmed.
I might just see if it goes away on its own accord, since I went to the GP just a couple of days ago (to get a referral to a dermatologist), and I can't face sitting in a room full of sick people for an hour, thumbing through dirty copies of old-lady magazines (e.g. Reader's Digest. Or worse... That's Life, or something equally as hideous) as I wait for my appointment that I was ten minutes early for. Seriously, who wants to read five pages about TV presenter's "gorgeous white and pink wedding" with a hundred photos of sickly-sweet flower girls and white chiffon-adorned tables, or how to clean your entire house with only lemon juice and saliva, or how to save thirteen cents a year by making your own toothpicks from old icecream sticks?! Not me, that's who.
In other news, my weekend was reasonably enjoyable, at least it was until I heard about some other person's exciting weekend, which totally eclipsed mine, and stole mine's thunder. Friday night I had the Poster Presentation, which went extremely well, in that it ended up with everyone standing around getting drunk, and none of us had to give our spiel that usually accompanies it. Score! This time I went straight for the red wine, with experience telling me that the beer was pretty bad, and the white was worse. There was practically no food too, which was a mistake. I think the only food I saw all night were these bland steamed chicken sates (that I think had probably had a peanut wafted over them in a previous life) and these teeny tiny cake things, which I ate a couple of before realising they were equally bland). Also, in honour of the occasion I visited my second-favourite retail place at the moment (the first being the one that gives me coffee, naturally), Cue, and bought myself a highly sophisticated pencil skirt, which was on sale, and a flattering blouse (by flattering, I mean made my boobs look amazing and at least a C-cup). I really like that shop. It costs an arm and a leg, but I can put on practically anything in it and it'll look like it was tailored for me.The only thing I don't like (besides the prices) is that they seem to use larger than normal sizing, so I always end up having to go back and try on a size smaller than I usually wear.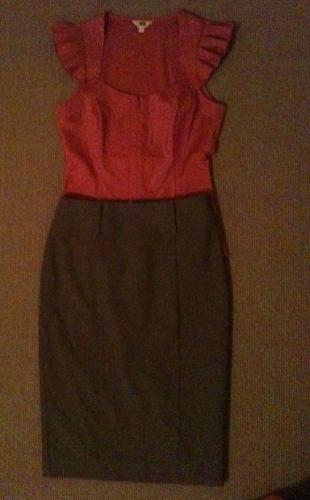 Posting this outfit makes me feel guilty for eating too much tonight and not going jogging... Whoops...
Anyway! So I'm having a craptastic day (like an actual break-down, call-my-mother type day, shh...), but pull myself together after work, whack on some makeup (at this stage it was just mainly damage control-I was red and shiny, it was warm enough that my makeup was sliding elegantly down my face, and it probably looked like Homer Simpson had shot me with his makeup gun), chuck on some heels and slip into my new outfit. And then waddle like a sophisticated penguin to the function room (the skirt was really quite fitted, and I'd forgotten about the whole need-to-walk thing). Once there though, it turned out all right. I got heaps of compliments on how "professional" and well-dressed I was (the ladies), and how I looked like a "sexy hot secretary" that was "about to pull her hair out" (the boys). And that almost made me feel confident and professional enough to rise above the fact that there was a typo in the title of my poster. Yup, that's right, right there for everyone to see. And judge. Dammit! Oh well. Only a few people noticed it (my old lecturer and friend gleefully pointed it out to me, since he knows what a stickler for spelling and grammar I am. Usually am. I really am, I promise!), and the not-having-to-give-a-spiel thing was a huge relief.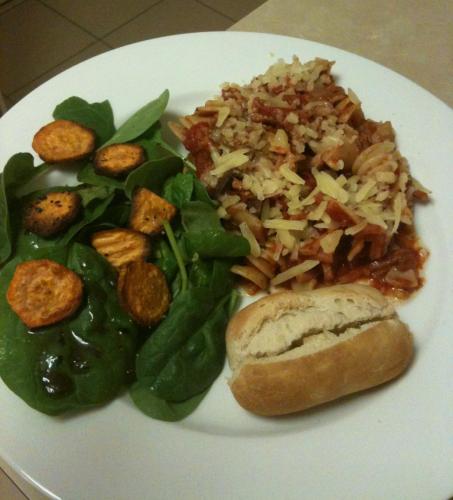 This is my unhealthy dinner, as requested. Spicy mushroom, ham and tomato pasta, dressed salad with sweet potato croutons. The sweet potato was easily the hit of the dinner, it was so easy and way more delicious than the pasta that I slaved over, which kind of only tasted spicy (I may have gotten a little overzealous with the chilli. Oh, and the cheese on the pasta. I love cheese).