I've just started watching The Wire. A friend of mine has been trying to get me to watch it for about six months. At first I couldn't even give it a shot, because it's so... gritty... There really is no other word to describe it. And it's real, at least for the hour you watch it (or two, because I can never seem to watch just one episode). You get totally sucked in, right down to getting immersed in the jargon they throw around. The characters are real, nothing's black and white, and despite them being seriously flawed you can't help but empathise with certain characters, whether they be cops, druggies, dealers or prostitutes, you name it. I love this show. There is one downside... I have recently caught myself wanting to use some of the more colourful descriptions the show employs, and "y'all ugly ass bitches shouldn't be fucking around with this shit" doesn't have quite the same ring to it coming from a skinny white girl.
On another note, my skin is still plugging along, the previous nodule thingies starting to heal. The one on my forehead is still under pressure, and quite painful, and I think may stick around for a while. I've also got a couple of boily-looking ones on the side of my nose, staring at whoever has the misfortune to glance in my direction. I'm quite self-conscious about them, and so even used a bit of concealer on the today as well as putting on a bright distract-y necklace (attached) and doing a double coat of mascara. Whoops. Hopefully that doesn't cost me too much. I'm seeing my doctor again tomorrow, but I haven't decided whether to ask her for a referral to a dermatologist, or just straight up order the DKR. Do I tell my doc if I do decide to do the DKR? Hmm... My seb derm is still being a pain. Hopefully I'll get on top of that soon. A bit too much of a coincidence that both skin afflictions seem to flare up at the same time, methinks.
Testosterone alert: The following paragraph is on cosmetics.
So today my friend brought me back a bottle of the "blasted" black nail polish, that cracks when you apply it, exposing some of the undercoat (I did warn you fellas!). Sooo cool. Unfortunately the new nail polish didn't instantly make my nails longer and stronger, or suddenly make me awesome at putting on varnish, so it probably looks a bit dodgy. Oh well! I'll upload a picture when I've done them. I need to get a few really bright colours (e.g. bright yellow), because they're the most effective. Hmm, just finished doing the crackle. It looks pretty awesome, but I'm going to need to find some better quality undercoat, because it's coming off with the crackle. Could be that it wasn't 100% dry, like they say it has to be (I'm not so good with the patience thing). Please excuse my ugly, spidery fingers. Seriously, digits are so ugly up close, they're all wrinkly and stuff.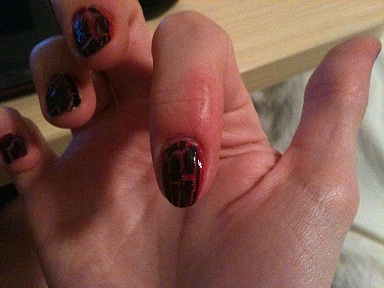 My crackle polish and burnt finger (you should've seen the oven though).
Umm... Tonight I cooked stuffed eggplant (I was totally going to call this entry "Get stuffed", but decided against it), which was quite delicious, but also burnt the roof of my mouth (again with the impatience) and my finger (oven element, gets me every time). I'm trying to eat more healthily (with more vegetable matter, less chocolate etc), as well as getting back into the exercise (I struggled quite a bit with the heat during my last 6 km jog, the weather is definitely warming up. I mustn't have been too hideous though, glowing with sweat as I pounded the pavement, because a fit dude cycling was like "Hey" to me as he passed. So what if it was dark?! That means nothing I tell you, nothing! Of course I, in all my class and elegance, faltered and almost stacked it (I'm not used to cyclists acknowledging me), but managed to fit in an eloquent "Hey" in amongst the heavy breathing a couple of meters down the road
). So far the vegetable thing is going well, but I really failed on the chocolate front. I consumed two different types (dark chocolate and peppermint, and Crunchie), as well as some icecream. And I didn't even go for a jog, because my knees were a little twingey after yesterday's effort, so I'm feeling especially fat tonight. Ah well, I'll just make sure to go tomorrow. The Watch is keeping track of my distances/heart rate/calories burned etc., which is cool. My mate (that gave me the watch) is amazed that my max. heart rate is so high (best guess is 215 at the moment), but I keep telling him that's because a) I'm a girl, and b) I'm not very fit in comparison to how I was a month ago. He says that the min. heart rate is what depicts your fitness, but I'm not convinced. If you're not fit, your heart is working harder, right? I thought so.
Okay this is a seriously boring update, I apologise. I think I got completely sidetracked and didn't end up saying anything I meant to, haha!