---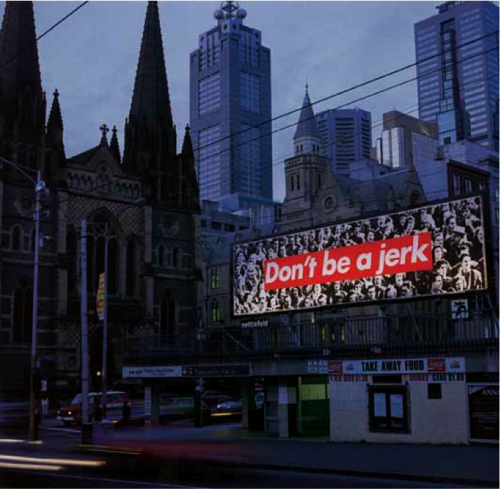 ---
I've always admired Barbara Kruger. Her work as an artist in the 1980-90s mostly consisted of giant billboards, such as the one above, with confrontational statements imposed over confrontational images. Consumerism, feminist critiques, body image issues, abortion, and rights were the subjects of her typographic genius. I've always wondered, from a psychological perspective, what actually passed through peoples' minds when they read them. Was it a situation when they were a jerk? Or when someone was a jerk to them? Did they swear to themselves that they would not be one that day? Do they just stare in confusion. Do they weep in penance over past misdeeds. Or do they just withdraw and ignore. I'd say it'd mostly be the last one. But I'm wondering, if they do, are they subconsciously nicer that day. Are they unintentionally friendlier and more helpful?
I always wonder how other people perceive acne as well. Do they shudder on the inside. Or have an empathic response? Many people say that having acne has changed their perceptions of others. I always imagine that people with/who have experienced acne would be less superficial. Especially when it comes to the skin of others. I mean freckles, eczema, dermatitis, vitiligo, would all be forgiven and understood a little more. Because they can relate to an uncontrollable skin issue. Maybe therefore they can relate to others' body image issues.
Wow, I think all this studying has made me super-analytical today. I've also decided that I need to stick to "the regimen" only my tailored version. Basically I've decided (based on past experience) that it will just be BP at nights, followed by AHA. If I have a particularly bad breakout it will be AHA for the day as well. I've done this in the past with reasonable success. However, the difference now is that I'll simultaneously cut-out dairy, and swallow some zinc and omega-3 (anti-inflammatories). So now you can read a blog that actually follows some sort of acne related regimen. Lol.
La la la. I get paid tomorrow. I love getting paid (who doesn't?) and it will be an extra large pay-check because we did first aid training a couple of weeks ago as well as my normal shifts. So I'm going to spend it on some clothes from the op-shop, (I need more summer clothes). And pay bills (whinge whinge whinge) and it should allow me to study productively at uni. What a big spender I am!!