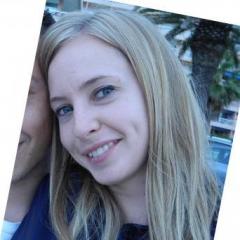 Wow. I can't believe how good my skin looks.....Sometimes I honestly look in the mirror and remind myself that I'm NOT wearing makeup! My skin looks that great right now.
It's like, all the bumps and pimples just vanished after using finacea for a few days. I guess its been 2 weeks total. It says that it can take much longer like 8 weeks to see effects. I just can't believe it!
I went to an allergist today for a consult for the skin allergy test or blood test. She told me all the different things she would test, and I checked to see if my insurance covered it....and it's not. It's $700!!! My mom needs to think about it- which I totally understand. I guess I will continue avoiding those foods until I can actually get the test. I just want to be able to say "no I can't eat that- I'm allergic" instead of just being seen as a picky eater.
My diet hasn't been the greatest, but I'm determined not to give up lol and give in in just eating a bowl of icecream or bag of cookies.
I haven't worn makeup since Halloween party Saturday night. I wore it a few hours, and my skin was just itching on my cheek. Now there's a few tiny very minor bumps there....
Currently, I have two suuuuuper tiny pimples on my chin- right next to each other. I wonder if this is from greasy food/oily food?
I've been taking zinc, vitamin c, vitamin d3, garlic extract, and birthcontrol about every day for a week now... Maybe this has definitely helped my skin?
There are still red marks on my cheeks, and faint ones along my jawline- but I am CONFIDENT. The finacea has greatly reduced redness in my face and the red marks. My dad today said that my skin looks great, and I wasn't even wearing makeup! This totally made my day!
Ok, so I think considering accutane is definitely out of the question. I see now that my acne is totally related to what I eat- ESPECIALLY dairy and soy. I'm really excited about my skin and just praying that it continues to be clear for my birthday party this weekend. If I break out after that- I guess I'm fine lol. Yay! It's all good...