End Of Week 2 Finacea And Things Are Looking Up!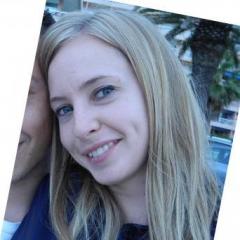 Nearly ALL the hormonal zits are gone. Praise the Lord, lol.
The clogged pore on my cheek has finally come to a zit. It seems that I get clogges pores right in the crease of my mouth/cheek where I laugh. I dont really understand. One side of my cheek next to my nose (T-zone) seems to get more clogged pores than the other. I wonder why?
I am very please with my regimen so far, though it's not always consistent. Pretty much I've woken up, rinse face gently with mild cool water, then apply moisturizer when it's a little damp...thats about it. Pretty simple. No clawing, picking, squeezing, grabbing for the concealer.
At night, I rinse my face with papaya soap (if I can't get all my face cleaned), then manuka mask, then rinse, then finacea when face is a little damp...then that's it.
I need to upload pics soon, since I reallly can't believe the difference. Of course, maybe give my skin/hormones another week or two and we will see again.
I didn't eat very good lately- today 5 rolled beef tacos!! no guarantee there was no wheat or dairy lol. Anyways, somehow I justified it was better than subway. Other than that, Ive been pretty good about saying no to sweets/dairy, sweet drinks, etc.
Life is good at the moment, missing my boyfriend terribly though. One plus about being in a long distance, is that on the days when I think my skin is too horrible to look at, I don't have to worry about surprise visits by him lol. I hope that when I see him next (maybe 4 months to 8 months?) my skin will at least look like how it currently is or better.
The greatest things that have honestly helped is not wearing as much makeup and using the pratima moisturizer. I still wear a little foundation to church, but my skin has seemed less irritated. And you know what? I never thought I would feel this way- I actually think my skin looks better without makeup. Because the makeup seems to block the glow of my skin somehow. The finacea is really evening out the redness. Of course my skin is light years away from flawless, but the marks are fading- old and new. I'm hoping my skin will at least stay like it is for my birthday in two weeks! woot woot. Will post pics soon.