Some Say Insanity Is Doing The Same Thing Over And Over And Expecting Different Results, I Say That's Science (Day 67)
---
I really feel like a fraud posting every day. Seriously, my life is not interesting enough, nor does my acne change dramatically enough to warrant it. Be that as it may, I want to set a good example so that others may follow in a similar fashion, and keep me entertained in the mornings when I intravenously inje- drink my coffee.
I forgot to take a picture of my pristine desk, and since I'm pretty much solely relying on pictures to provide any substance to my blog (they're worth a thousand words each, remember?), you are going to get some randomly interspersed photos from my trip instead. I'm sure you're all very disappointed!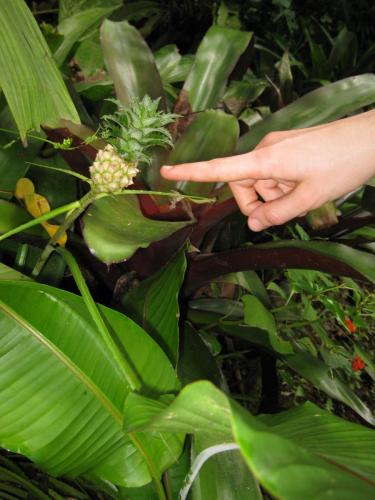 Look, a tiny pineapple!
Skin-wise, I ended up accidentally scratching pretty much everything, which is a bummer. The eyebrow lurker is healing, but I suspect the one on my forehead is calling all his friends to come party for Halloween. I've been BP-ing the heck out of the sites on my back, so the sore one has flattened out quite a lot. As much as I'm whinging, when I posted the update photos yesterday I could see there has been a vast improvement over the last 67 (gasp!) days, and I guess the fact that I'm sweating the small stuff shows that progress is being made.
There, see? Did I fulfil my quota of optimism and acne updates? Good. Now on to the real stuff! I'm a little torn at the moment, because a friend of mine has asked me to go to his house for a BBQ and beers on Saturday, which is my kind of thing. However, his contact with me has dramatically increased recently (mostly a message every week or two about what I'm up to on the weekend), and I'm starting to think it's because he's interested in being more than just friends. It's quite complicated, because I used to be close friends with his ex girlfriend, and although I haven't seen her in about two years, I still feel that it's all a bit... Wrong... Besides that, at the moment I'm really enjoying just meeting new people, and find that guys that I don't know can be a lot more attractive as romantic prospects than when I do know them, haha. I guess it's the old "want what you can't have / grass is greener" thing. Anyway, the crux of the matter is I'm not sure whether to keep accidentally-on-purpose avoiding him, or bite the bullet, go to the party and see if he urinates on me to mark his territory to all his other friends.
Halloween is coming up. Now here Down Under, Halloween is mostly a non-event (commercial Hallmark holiday, and all that jazz), but I've got to admit, I love Halloween. I love everything from the kids trick-or-treating and the kitsch decorations, to the boozed-up scantily-dressed young women giggling and taking photos of them in their pussy cat / sexy witch / naughty nurse costumes. I don't know why it is, it shouldn't be my kind of thing at all, but I'm just fascinated that a) it suddenly becomes acceptable for a full-grown adult male with chest hair to wear a dress, and b) by what people decide to wear (Examples of costumes and what they mean: Lazy? Devil / pirate. Last minute? Hippy / fairy / pirate. Need a cheap costume? Pirate / name label that says "God". Somewhat organised? Greek goddess / Egyptian Pharaoh / Pirate. Letting your hair down? Some kind of uniform or pirate). Uh, how 'bout that? I guess the fact that pirate fits into so many of those categories is why so many people wear it, huh?. Last year I went to an awesome party organised by a Yank that even had dry ice to make the jungle juice (for those not in the know, that's a noxious combination of every alcohol under the sun mixed with fruit juice to make it taste deceptively delicious) fog, with bubbling eyeballs for icecubes. Man it was fun. This year? No plans as yet (besides the Saturday BBQ offer and the ever-standing offer to visit the local). No Yank to organise it, unfortunately. And I even bought back duty free for the punch, and started contemplated grotesque recipes I could get away with people eating (I'm thinking I'll take some inspiration of Mrs Cropley in the Vicar of Dibley and try to do some vegemite-themed baked goods for all the visitors in the midst, muahaha)! Sigh.
I'm trying to be better about getting to bed on time, so I'll keep this relatively brief. Oh, actually that was part of what I wanted to say. I'm going to get back on the healthy living bandwagon (such a fad), and eat healthily, sleep more, and get back into regular (5 times a week) jogging. I started this off very well today, by eating leftover home-made pizza for lunch and baked veggies and rice for dinner, which was ruined with a visit to one of those charity boxes of chocolate that they have in offices- gah! They're killing me. Then I went for a 5.5 km jog (once again serious some ineptitude on my part with Garmy [The Watch] meant that whatever I did manage to record will be completely useless), and ruined that with subsequent bowls of sugary cereal and chocolate icecream. I have no will power. It's like I say to myself "Well I ran soo far today, I deserve at least five extra servings of whatever strikes my fancy!". Ah well. Aaand, I showered really early but ruined that too by mooching around reading and writing blog entries. Whoops!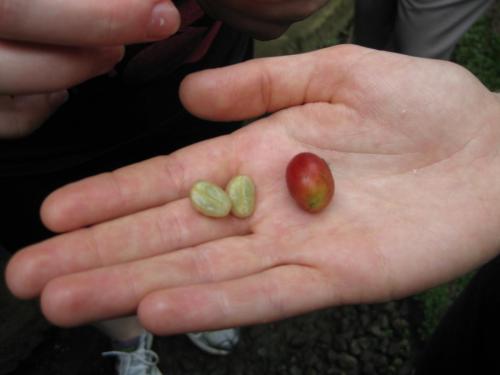 Delicious raw Arabica coffee beans. The ones on the left have been ingested and pooped out by civets (similar in appearance to what I imagine you'd get if you crossed a cat with a gremlin). These defecated beans are hand-harvested from the fecal matter, cleaned, and roasted to make a deliciously smooth and bitterness-less coffee. This is also the most expensive coffee in the world.