Self-Inflicted Pain: Procrastinating From Going To Bed Even Though One Has To Get Up Early In The Morning (Day 66)
---
I've noticed that my other blog-buddies have become quite popular on the .Org (taking out awards for Most Commented, Most Viewed, Top Blogger etc.), and since I can't hope to compete with them in terms of quantity or quality of writing, I thought I'd put my stamp on my own, equally important award: Longest Blog Titles. I'm sure you're all sufficiently impressed, and understand that this is a highly coveted award only offered to blogs with extremely high impact factors. Good, that's settled then.
Okay then, moving on. I had heaps of exciting things to write, and during the course of the day I'd say to myself "Ooh, I must put that in my blog". But sometimes my memory is about as effective at holding in information as a taco is in holding fillings, and by the time it gets to blog-writing time (also known as "pumpkin-turning time", "witching hour", and "too late"), all the good stuff (the cheese, guacamole, etc.) has fallen out, leaving some slightly wet lettuce and a couple of pieces of tom- I mean, the boring stuff. So, here is the Bad Parts version (totally ripped that off the Princess Bride too, if anyone noticed):
Was woken up at sunrise (about 5 am) by the pesky little noisy miners. This time they decided to congregate outside my door, in what I would like to coin a 'grievance'. A grievance of noisy miners flocked outside my window; specifically, a family of three, the noisiest of which is obviously an infant. Taunting me with their incessant "chip chip chip chip-ing"... Raagh! I took photographic evidence of the little blighters this time, for those mid speed-dial to the nearest psychologist. But, since I am not a morning person (unless there's three barrels of coffee or a date with John Krasinski involved), I thankfully managed to go back to bed (later hitting the snooze button a few too many times, of course).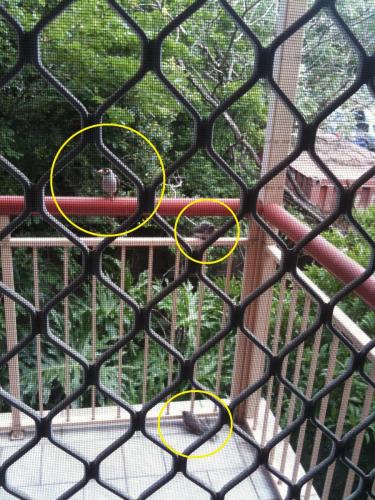 Okay I'm sorry, I still don't know how to make the image smaller, my apologies!
With respect to skin, I celebrated too soon. I got another eyebrow lurker (seriously? ! It's so weird! I'm a freak), and a newbie on my back (who's a decent size) about five minutes after writing my last entry. Sigh. Haven't managed to avoid scratching the eyebrow one (whoops), but I'm trying to leave the other well alone to avoid spreading the infection. An embarrassing but hilarious aspect to the eyebrow lurkers is that you have to be extra careful when applying BP so as to avoid bleaching parts of your eyebrows, (I'm sure it's a great look on someone who's albino, but not so great for me).
The rest of the day consisted of minor work, considerable procrastination (shout out to Resery for her incredibly exciting and gossip-filled emails which sustained me throughout the day), and talking to Pansy, who's being such a good plant. I found out that while I was away on holidays for a week and a half, no one watered him (even though I specifically asked them to). Poor thing probably put all his energy into flowering as a last-ditch attempt to spread his seed (or whatever it is hybrid spathiphyllams do; I'm pretty sure they're asexual) before he curled up his toes. Luckily I got to him in time, and he's looking pretty healthy.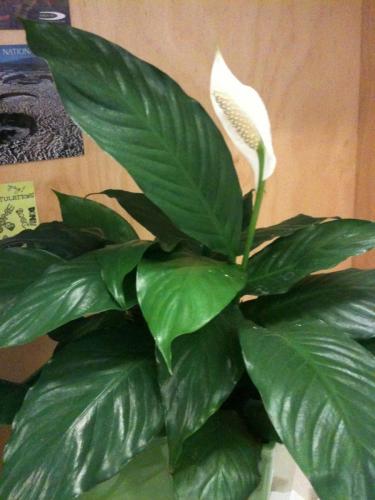 This was my evening, which did not consist of the long and energetic jog I intended to go on, as shown by the timeline:
Got on train. Headed to shopping centre.

Serenaded tomatoes in supermarket (don't judge me).

Supermarket staff had to reserve any judgement, since they were all wearing dusky pink and/or feather boas.

Actively attempted to avoid line containing extremely attractive male staff member my age so as to not be mortified by own, less-than-attractive appearance. Failed.

Added to mortification factor by telling attractive staff member he looked "extremely fetching in pink", like the 70 year-old woman I am.

Died of embarrassment.

Purchased items for home-made pizza and made a quick exit.

Got to train station. Did inventory- missing minor ingredients.

Re-entered store to purchase pizza base and tomato paste for sauce (groan!)

Returned to train station and got home an hour late.

Still, house-mate and I had delicious home-made pizzas for dinner, and I even had the foresight to cook an extra one for furture lunches; Go me!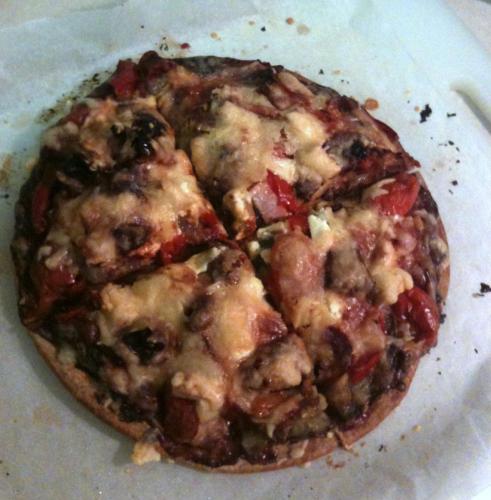 The one shown here is the well-done lunch one, that I may have forgotten about when I was munching away on the delicious dinner one that I forgot to take a photo of.