More Improvement With Finacea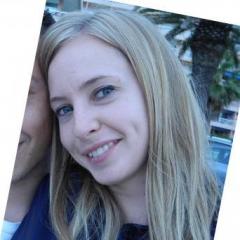 My skin continues to improve, though I'm still having super minor zits come up on my cheeks. I think it's from clogged pores that the finacea is just bringing to the surface. I've also used the olay pro-x brush to remove some dead skin, but I've read that it can cause tiny bumps/zits for acne prone people.....Maybe I'll lay off.
The cyst thing on my right cheek is healing and flattening.
All the hormonal zits around my mouth are nearly flat and not noticable. There's not even much of a red mark. Thats because I did NOT pick though!
Huge zit thing on my forehead is nearly gone. Just drying out cause I put a dab of finacea gel on it and kept rubbing it in.

I'm alternating veltin and finacea on my forehead at night. The finacea just dried out my skin, but the veltin makes it peel. I feel that the finacea keeps down the redness, and the veltin exfoliates (even though it's not an exfoliator) and prevents those gross bumps. If I don't use it, I noticed 2 of those super tiny bumps on my forehead, so I realized that this is a routine I need to keep doing.
I decided to continue using finacea. I realized it was the things I was eating and my hormones that caused my skin to break out. My skin looks brighter and less red in the morning. It's awesome.
I've been much more strict with my diet. I made a couple batches of cookies for friends, I only had ONE cookie! lol it was amazing. Lemme tell you, when you really limit what you eat to really healthy food, sometimes cheese and homemade dessert taste SOOOO good! I'm not worried about eating it though....
I'm still trying to work out my regimen. It seems that I've applied manuka honey all over in the morning and wash it off. Then I apply moisturizer. I've only applied finacea at night because it leaves this really white residue- especially if I don't rub it in good enough. A friend kept saying, "your face looks so white!" and I would just reply it was my sunscreen. oopps. So I'm sticking to it at night. Plus, it's difficult to put anything on top of it because it gets caked up. This is an expensive prescription, so i don't want to waste it or do something so that it won't work.
Basically, my main products are pratima moisturizer spf 30 in the morning, veltin every other night, finacea every night, papaya soap, and manuka honey.
SKin is getting better. I wore my mom's shiseido makeup the last few days, even though I don't really need to. My skin looks better than it did a week ago, and I didn't wear makeup then. Plus, I like my skin to breathe, instead of layering foundation on it, I'm wondering if to try to buy another makeup that is similar to rejuva minerals because I don't like how the shiseido gives me a shiny makeup look. Don't know how to describe it. I've been used to mineral makeup that this is different. so....I'll see what I can find!