I Can't Think Of Any Title That Doesn't Involve That Awful Rebecca Black Song, I'm So Sorry (Day 65)
---
Hello Stalkers!
There is an extremely annoying bird that chooses to sit on my windowsill right next to my head and mock me with the loudest and most annoying high-pitched chirping noise in the world, starting at about 5 am, and finishing at sunset. Seriously, it squawks at me until I "tssh!" loudly at it, where it moves to a tree next to my window and waits five minutes before returning to its rightful position in the world; annoying the crap out of me right next to my eardrum. I think it's called a noisy miner, and they're not effing kidding! Raagh!!! Must_buy_water_pistol...
So, anyway... this weekend has been extremely eventful, and a lot of fun to boot. First it started with me getting a package in the mail from a friend containing an extremely exciting piece of second-hand hardware which is going to make me instantly fitter just by owning it... A 305 Forerunner Garmin watch. Yup, a proper hard-core, GPS-fitted heart rate/distance/calories/velocity-monitoring piece of equipment which is about the size of a small elephant. So that was a big, scary moment for me, since now there's no cheating on my jogs, since everything short of my bra size will be recorded and ready for upload and analysis. I took it out on Friday night for a slow jog (oh god I'm so unfit, three weeks of food and cocktails destroyed anything that remained of my four-pack), and was not disappointed. Besides a few slip-ups (I managed to turn it off mid-run a couple of times, and pressed a few buttons I definitely wasn't supposed to), and the fact that it's ginormous, I think once (if) I work it out it'll be quite useful.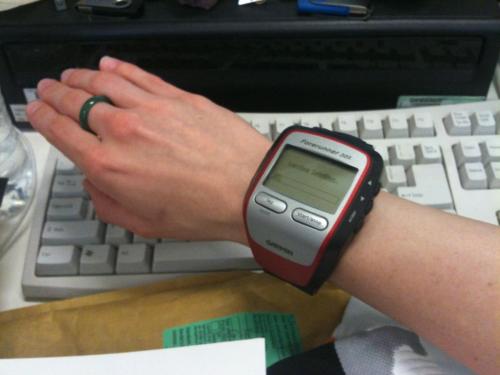 Then Friday night I tarted up and went to my favourite pub, Archive. This involved applying face makeup, which I haven't done for over a month, so I'm a little bit apprehensive about how my skin will respond to that. However, that turned out to be totally worth it, as guess who I ran into at the pub, my pub? That's right, the very same ex who broke it off when I developed acne, citing that he "wasn't ready for a relationship". And guess who he was there with? That's right, his new squeeze; a less than fun-looking blonde. It was a lot less awkward than I thought it might be. I ran into him (not actually; he's extremely tall so it'd be quite an achievement to miss him), said a very brief "Heyo... yooouuu!", did the perfunctory "I haven't seen you around in ages" "Oh, I've been on holidays" thang, and then quickly exited the stage to the left. And I actually didn't realise he was with someone else until my friend "A" told me, which was good. I hate the awkward meeting-the-exe's-new-girlfriend thing almost more than I do coriander (no, that's a lie; coriander is the herb of Satan, nothing trumps that). The good news is, I'm pretty sure I looked insanely hot (the long island iced teas and pints of over-proof beer had nothing to do with my vision, I'm sure), and I had a lot of fun with my friends even though I knew he was there. In fact I forgot about him completely most of the time, so that must mean I'm missing him terribly, right?
Actually one of the highlights of the night was one of my mates (A) telling me that I looked so much more relaxed and better, and my skin looked great, which was very sweet. I think he might've used the word "perfect" which is a gross over-exaggeration, but I'm chalking that up to us both being slightly (cough) Foo the Noo, and me wearing redness-reducing makeup. But still, when I guy notices and comments on it, that tends to indicate a decent change. So yay!
I ended up chatting with my girlfriend at her place for ages when I dropped her off, and didn't get home until 5.30 am (don't tell my mother)! Which meant I didn't get up until late that afternoon, but when I did? No hangover. That's right, people... Not even a headache. I don't know if you younguns will appreciate this, but when you reach a certain age (in my case about 24), this event is about as likely as the Camping's Rapture prediction actually occurring. So I think the combination of talking until sunrise and passing out for eleven hours must've helped... Or maybe it was just karma?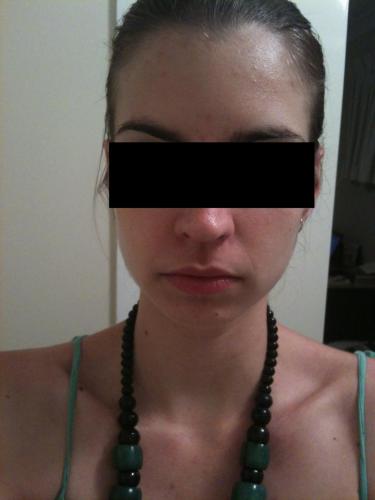 This is me not hungover, read it and weep
Obviously skin-wise there's still a lot of work to be done, but I have noticed most of the marks now are red PIH and scarring. I think it's been a few days since I've had any serious new additions, and thank goodness the ones on my eyebrows are going. Seriously, I had three or four on each side, it was so weird.
Then yesterday I pretty much woke up, showered, had a bowl of cereal (thus providing evidence of my lack of hangover in the form of; hunger [i find it hard to stomach water when I'm hungover], a lack of greasy food, and the consumption of dairy products), then went to a friend's house for a party. This was a pretty relaxed affair, involving wine, cheese and biscuits, cake, and discussions on such important issues as the scientific potential for dinosaur cloning. And so since I did nothing that I should've yesterday (on the list were shopping, cleaning, baking chocolate-chip biscuits and doing multiple loads of washing), I had to do them today. Alas, except the baking. Turns out you some kind of a whisk or mixing device to cream butter and sugar together, who'da thunk it?
It occurs to me now that my anonymity is pretty much destroyed by the amount of personal detail I now include in my posts. This is extremely unlike me, and I blame all you lot for that!