50 Days! - Half Way There?

Entry posted by Renn17 ·
206 views
50 DAYS! That means if I'm only on a 4 month dose I'm half way through and only have to be pally with accutane for another 50 days. My skin was really good today, I took some photos this morning to share but they didn't turn out very good so I'll take some more tonight when I've taken my makeup off and then I'll upload them into my gallery.
I'm finally going to attempt to 'down-thicken' my foundation by getting a lighter sample than Estee Lauder Double Wear. It's called 'Double Wear Light', so it's probably not that much different from what I use now, but I'm going to take baby-steps. It's been so long since I've worn what could be considered as 'light makeup' I have a fear that if I wear a foundation too sheer the slightest breeze will penetrate my makeup and tickle my skin, causing me to fall into a shock-induced coma.
I ordered some 'Nanoblur' this morning. There's a lot of hype about this product and there isn't a clear "WOW, I look 10 years younger!" or "OMG I look like a Badger's arse", so I thought I'd give my opinion on it...when it arrives (which will be around Wednesday) If you haven't heard about Nanoblur then here's the description plucked from the website:
"Nanoblur is not skincare. It is quite simply tomorrow's high technology, today. It is not a cream. It is a suspension of millions and millions of particles that reflect light perfectly in billions of directions to make the skin's surface appear completely flawless. Within seconds, pores appear to disappear. Fine lines appear to vanish. The skin texture appears nearly perfect. With one application on any skin surface (even on your hands), you will be convinced that Nanoblur will make you look up to 10 years younger in a matter of seconds. It's just that simple."
Looking at this picture, which 'is not retouched in any way' and no 'makeup and no special lighting was used', it looks pretty amazing: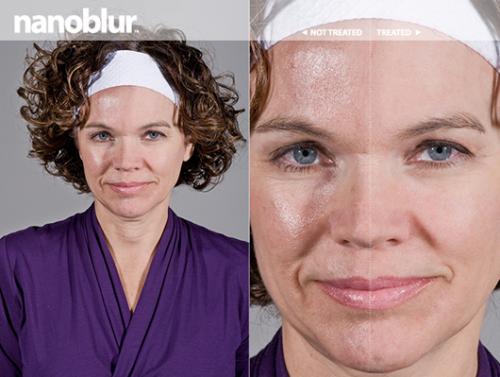 *Edit-Camera is being used by my brother again so you'll have to deal with bad quality pictures!