You Know In Harry Potter, When Houses And Shops Disappear And Reappear? (Day 63)
---
...Yeah, well that's kind of what happened to me today. Except without the reappearing thing. Okay I shamelessly used a pop-culture reference to hook you in, so sue me. It worked, didn't it?? And now I've got you in my evil clutches, I bet you can't wait to find out what happens in my exhilarating story.
So I head into the office, all bright and early (ha! I'm totally lying. I got a text message from a friend super early this morning, and when I read it I must've turned my alarm off. Ugh! I do that more than is probable. My subconscious wants me to sleep in... Okay my conscious probably does too, but that's besides the point! I need to stop including so many side notes in parentheses. And stop making them so long. They get longer than the actual message, which ruins the flow a little [or a lot]. Ha! See what I did there? Intra-parentheses parentheses; I seriously have a problem here! I need intervention!), and then during my lunch break head off to my appointment for permanent hair reduction. See? I told you I'd be honest. It's your choice if you read it
So anyway, I tried calling them half a dozen time to confirm my appointment (they usually send me a text to do this. Oh Crap- again with the parentheses. Sigh), and the phone is disconnected. "That's weird" I think, "They must be having phone issues". So I turn up at the place, and BAM! Nothing. I swear, I walked up to where this shop used to be, and dust bunnies were blowing across the drive, while the wind whistled softly through the... lack of trees. This is in the middle of the city, after all. "What the-" I think to myself, as I approach where the entryway used to be. At this stage I'm feeling a little concerned, but still slightly hopeful. I mean, maybe the roof had a leak or something, and they had to temporarily evacuate? I'm a trusting kind of a person. Anyway, I walk up to the door, only to see this note: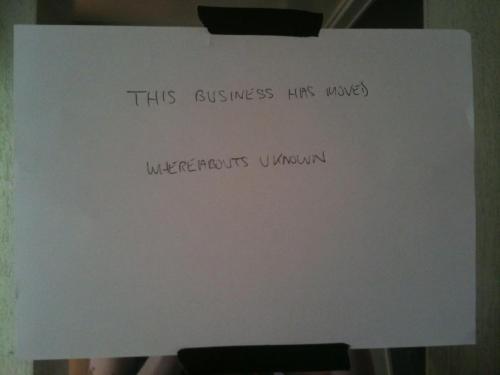 Once I saw this I had a feeling of dread. Coupled with the phone being disconnected, this does not look good for my scheduled appointment. Yay! So the company's disappeared, taking with it my six months worth of pre-paid sessions... joy! Ugh. Probably gone into liquidation too, knowing my luck. So that's it; people are actually packing up their companies and leaving without notice, to avoid touching my skin, hahaha! Nah I'm just kidding. But I'm still pretty surprised that that could happen. An email from the company would've been nice! I guess they don't want people contacting them asking for their money back. Crazy!
So in a pseudo-acne update my face is still shitty, partly because I can't help but scratch at it, which stops the existing sites from healing before the new ones crop up, the shitty little bastards. Yes I'm cursing, because I'm cranky. It's so annoying! I don't even realise I'm doing it until it's too late. I'm vain enough that this does affect my confidence, so I had to slap on a bit more eye makeup today (nothing on my skin in terms of foundation, etc., of course). I did wear some of my new wooden beads I bought in south-east Asia for a couple of dollars each though (probably an entire family's food allowance for the day, ugh!), which cheered me up. It's nice wearing something bright when everyone around you is in serious grey and black work suits. I noticed a few eyes drawn to my necklace (I'm sure it was my necklace, because I'm not very well endowed in the chest area, haha!), and I like to think they weren't thinking "Sheesh, even those ridiculously bright beads don't distract from her spotty face!".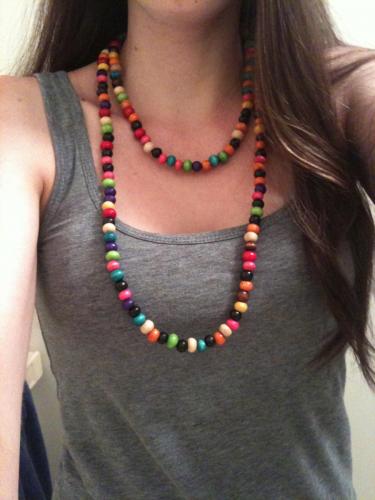 Now I thought I'd try my hand at dot-pointing something, as all the cool kids seem to be doing it these days! So, in no special order you get a regurgitation of whatever spills out of my head within the next five minutes;
Tomorrow my task is to wake up on time, get to the office on time (ha!), and clean my desk... And get back into data interpretation. Sigh. The desk cleaning will definitely be more fun! I like cleaning my desk, it makes me feel in control.

Also, I need to remember to bring in the treats I bought in Indonesia tomorrow for morning tea, including weird-flavoured Oreos (peanut butter and "ice cream" flavoured, haha!) and some coffee-derived lollies. Mmm, coffee...

Not sure what my weekend plans are yet, but they may include a visit to the pub, and will probably include a brunch on Saturday or Sunday morning with my bestie at my favourite brunch place.

Also, I plan to bake something this weekend. This is a pretty big deal for me; I come from a line of good bakers and craftspeople, and I have the domestic ability of Martha Stewart's prison guard. Or possibly less, I'm not sure. So I will try to attempt to cook something vaguely edible, like chocolate chip biscuits. I have successfully cooked chocolate slice previously, so I'm hoping it won't be too much of a disaster. Never fear, I shall post gloating photos if it is successful! If it's not, I will just never mention it again. Huzzah! Gotta love the monologue

Now I feel like I don't have enough dot points, so here's another one. Ha! Tricked you, muahaha!

And just because I can't rely on my witty repartee like the other blog writers I'm competing with for your attention, and as such want to win over people's affection with irrelevant photos, here's a photo of my messy desk;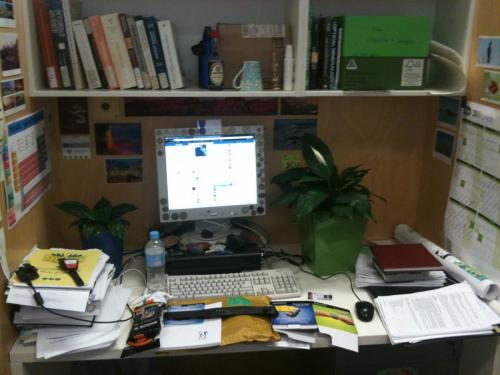 Enjoy!