Aaaaaand The Breakout (With Pics)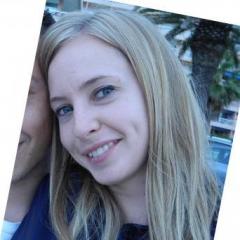 OMG....I have really had it with breakouts. For at least a few days, I love my skin...then monsters come out of nowhere!
I have at least 6 new pimples on the right side of my face!!! Granted, the huge one next to my lip started before I began finacea, so...the others are just like it. Just deep- not cystic though and just slow forming. They don't really hurt that bad.
Then there's about 4 new pimples on the left side, ranging from very tiny to huge. I'm afraid that the number of pimples will increase....
I really don't know what to do. I stopped using the Veltin all over because of a horrible inital breakout that didn't cease. I'm too lazy to cry.
I'm really wondering what I ate or did that would cause these pimples. It seems like the pimples that would be from the finacea have been very tiny and minor and go away rather quickly. But these other ones seem to have come OUT OF NOWHERE!!!?!?!!? I am linking these zits not to an initial breakout, but reaction to gluten. I was completely gluten free for 2 weeks (clear time) then on saturday and last week had wheat products! And since this gel is wheat derived, I think I need to stop.
Other than that, all the little red bumps I had from the makeup are gone and skin is considerably smooth though it doesn't look like it. I'm beginning to think that since finacea is derived from wheat somehow, that maybe this is the reason why, and it's not really my skins way of purging...it's just a bad reaction somehow. I wouldn't mind these pimples, but they are the kind that take a VERY long time to heal. I guess I don't mind an initial breakout, since I had a horrible one on the regimen, but that's the thing- I don't want one as bad! it left sooo many scars that have still yet to fade.
I'm actually desperate to use benzoyl peroxide again. I don't know why my body all of the sudden rejected it after two months? I had used it for years in high school, but since accutane I haven't been able to hand anything.
I didn't apply finacea this morning, but applied manuka honey mask and finacea tonight, I'm thinking I'm going to stop it for a few days...maybe a week to see how my skin does. Where there are pimples there were no clogged pores or anything! Seriously thinking it's a reaction to wheat. I should have asked my derm for a referral to get the skin allergy test! I forgot to
I would seriously be mad to waste 160 bucks on a tube that I end up having an sensitivity to the main ingredient! I have eaten wheat and corn products- but very very little. Maybe this is still the problem
So, this morning I used my moms shesiedo powder foundation. I used this makeup since I was 12-18, and it covers very nicely. I was surprised how my skin glowed and how good it looked. I remember loving this foundation, but I'm afraid it will clog pores. Plus, I'm not used to seeing me "looking" like I have face makeup on lol. So I'm planning on wearing it tomorrow...I know it's bad...but hopefully nothing bad happens!
I tested Dan's BP on my arm to see if I get a rash like I used to. So far, there's no problems. But then again, my body isn't as sensitive as my face. We will see what it looks like in the morning.
At this point, I just need something that will prevent pimples (who doesnt! lol) but I have all the meds that are good at treating them. So here are the pics of the current breakout....remind you of the breakout from Veltin? well...maybe not as bad... ya...I just might stop using it...looking at these pics is so discouraging...considering that my skin looked great a week ago!