Inbetween-The-Numbers / Making Up For Lost Time
---
Hi All!! Okay, okay, I'll be honest... Hey to my one blog reader!
Unless I have a stalker, which'd be kinda cool... My sister had a stalker for about 6 months, which is such a fashionable thing to have. I heard all the celebrities are doing it.
As you can see I have been a tad inactive for a few (cough) days. This is due to me going on the most amazing holiday to an exotic tropical destination, and having very limited access to the internet (countries are still using dial-up speeds?!)... although somehow I did manage to do a few smug status updates attached to pictures of crystal clear lagoon pools, and scandalously-named fruit-adorned cocktails, of course. Are you feeling jealous yet? I've got to say, a large part of the joy of being on holiday for me comes from excessive self-satisfaction to the detriment of others in the form of "Wish you were here!" messages and the like. ...Too honest?
Anyway, in light of my departure from this country into a distant and exciting land of the extraordinary, I have decided to write off the last x number of days (where x is an exceedingly large number attached to extreme guilt) in terms of the acne part of my blog. The good news is... (drum roll)... my acne is just as bad as when I left! Huzzah!!
I'm sure you're all extremely relieved that you didn't have hear any irritating stories of improvement, or any aggravating messages of positivity and hope, am I right?! I thought not. No, instead you can all breathe a sigh of relief knowing that in the last three weeks or so, there has been little change to the quality of my skin except the addition of a healthy brown glow* resulting from the natural and organic addition of vitamin D that comes to spending lots of the day walking around perusing marketplaces, then from treating yourself for possible over-exhaustion by lounging in a sparkling pool, which is cleaned (skimmed, vacuumed and tested for chemical balance) every single day. Yup! That's the kind of amazing service you get from ubiquitous cheap labour and rock-bottom (or lack of) minimum wages. Poverty be damned! Whoops, I got side-tracked again. Yup, skin is at about the same level as when I left..
This is me today. Hey, quit whinging. You're lucky I didn't put up the one with a toothbrush sticking out of my mouth! So as you see, I was also having a daggy, icecream-filled day. Add to that the acnetastic skin and the lank hair; stick a fork in me, and call me sexy!
In case you're interested, I maintained my regime throughout the trip, which involves the following:
AM - shower with Cetaphil gentle cleansing bar, apply Cetaphil moisturising lotion, take antibiotic
PM - shower with cleansing bar, apply topical bezoyl peroxide / retinoid gel, then moisturising lotion, take Pill.
So I got more sun exposure, whilst using sun screen (okay I may have gotten very slightly burnt during a ten minute walk one afternoon after I forgot to apply sunscreen one time, but other than that one incident I was very good, and applied about three petrol tankards of sun screen throughout my trip each day. For any interested parties (ha!), I used Auscreen sensitive, low-irritant SPF 30+, which is one of the few non ridiculously-expensive sunscreens that I'm not allergic to. Seriously, it's such a pain in the arse! If I apply normal sunscreen my skin burns like the flames of eternal damnation (or equivalent to one moderately thick coating of BP gel on the cheek region ...of the face, you dirty-minded coots!
), and about five minutes I look like I've been roasted in about four full hours in tropical sunlight, which is probably the equivalent of about 24 hours of summer exposure in other latitudes. So anyway "to make a long story short (Too late!)**", I stick to the sensitive skin friendly stuff.
Another disruption to the regime is the addition of chlorinated pool water, as I swam almost every day. I say almost, because there were two days I was laid up in bed with an International Cold (far worse than a domestic cold) kindly shared with me by my sweet sister, where I could not stand the idea of swimming around in something cold and wet like a pool. I'm hoping pool water, like the increased Vitamin D uptake, may actually have a beneficial effect in the long run. What is likely to be deleterious (man I heart that word so much), is the copious amount of sweating I did in the 30+ degree heat (I have no idea what that is in weird-people measurements) and 80+% humidity we experienced. I'd like to think this could "clear my pores", but I think the air pollution from the ridiculously ingested traffic (I'm looking at you, motorscooters and people movers), and the constant irritation from wiping it away would not help.
Also, I'll admit that I partook in a few beverages, of the alcoholic variety, which is probably not super beneficial. Although I did do very well in trying to moderate my drinking, considering I'm on antibiotics. Go me! My dairy consumption was down quite a lot; milk and cheese and stuff is not widely consumed in south east Asia, so my dairy intake was mostly limited to two cups of white coffee each day.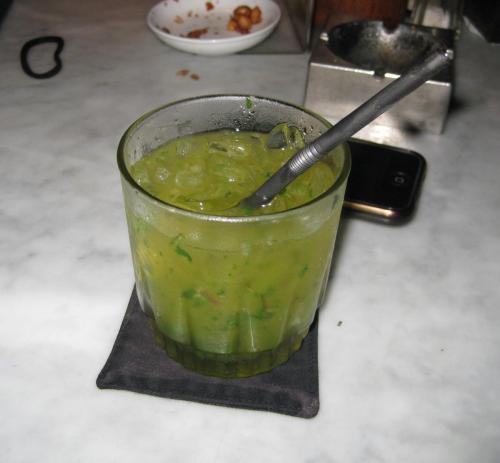 Okay now I feel really bad re-reading it, all that time waiting and it's such a boring entry! I'm sorry, I promise I'll try harder!