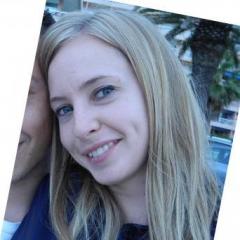 Maybe I wasn't applying enough in the beginning, but yes this medication does tingle. At some points it drives me crazy lol because I want to scratch haha. I guess that means its working!

There are no new breakouts. The 3-5 pimples are healing very nicely. Note that I am NOT picking them at all.
I thought about only applying finacea once a day (at night) but if it takes up to 8 weeks to see results, I figured I wanted to use it twice a day like recommended. I think my skin is tolerating it very well.
ALL of the red bumps I had ARE GONE!! My cheeks are smooth again.

I think I put the gel on my neck and there were dozens of super tiny bumps (that could have been from the makeup who knows) but now they are gone and my skin is smooth. I wore makeup on Thursday for a few hours. I didn't wear any yesterday and did all my errands and even saw a few people in the church office..., and the Lord helped me today to go without it

. I did not seeing anyone important....What will I do for church?
I'll worry about that tomorrow lol.
I can tell that just within the few days a lot of the redness in my face is gone.
I mean, my face overall is whiter. (I have very fair skin anyway). But in comparison to my face my arms and chest look tan lol. I think for someone with rosacea it will take a longer time, but for me it might not because I only have acne.
I noticed this morning that the left cheek where there are many spread out and wider marks/hyperpigmentation are looking faded. It could just be me, but I'm really excited. If I don't rub it in fast enough or put too much, then it leaves this white residue. I actually don't mind this, since it sort of "whitens" my marks. Except in a picture I will probably show up as pasty lol. I don't think that people with a darker complexion would like this. The downside is that I have to figure out how to apply my moisturizer. Last night, I didn't want my face to get too dried out, and applied the spf because It's the only moisturizer I'll use. It then just sort of caked on my skin....and felt even tighter. I know it doesn't have dimethicone in it so it doesn't "spread" or is as slippery as other moisturizers. hmmm I'm thinking of trying pratimas rejuvenating cream as a night time moisturizer, but wondering if it will be too thick.
This is what I did this morning:
Washed face with cool/lukewarm water and papaya soap. Used Olay's proX brush to gently exfoliate and really clean off gel/moisturizer.
Pat dry. Used a few drops jojoba oil on cotton pad and dabbed face. (Applying it when my face is still a little damp is much easier. It was also easier using a tiny bit of jojoba oil. But I know I shouldn't over do it.)
Applied finacea. Wait 20 minutes. Gently applied moisturizer.
I have a small pimple in the center of my chest. I noticed that along my shoulders/neck I am getting these tiny little bumps again like I used to all over my body before I started using papaya soap. I'm beginning to think that it's from wearing necklaces. Well...if that's the case THAT'S LAME! lol I have pretty much tried to avoid anything that will irritate/rub my skin. I don't even let my seat belt touch my chest/shoulder and you know what? I stopped breaking out there! Now I just slip the seat belt under my arm. I wear a new bra everyday, but I'm still getting small pimples on my back along my "strap line." Does this mean wearing no bra? um....ok I'm not that desperate lol.
Ok, well I am really excited about this medication. I think if I stop wearing makeup for at least 2 weeks, and use this twice daily, I will be able to see if not wearing face makeup makes a difference and/or if the finacea is helping skin or breaking it out.
I just need to be strong to go without makeup....AHHHH!!!!! lol. Everyday I feel more free!!!!
Tonight just manuka honey mask, finacea...and maybe moisturizer.