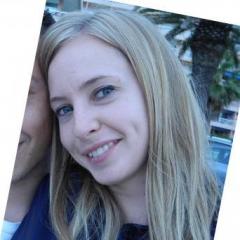 My appt with the derm went great. He recommended finacea even before I asked for it! lol it's meant to be

)
The HUGE downside is the cost!!
For a 50 gram tube it was $160 bucks through my insurance...and we have a better deductible on prescriptions...luckily my mom has no problem paying for it and will do whatever it takes to get my skin clear. but still...it really makes me want to save every single drop of it, and pray more that it works lol!
Another concern is that it is derived from wheat...I don't really know how though. And...I'm avoiding eating wheat/gluten. I really need a skin allergy test done so I can see if I'm really allergic/sensitive to wheat. Anyways..I guess I will really watch my skin how it does in the next few weeks.
Maybe I'm comparing to the regimen, but I haven't really experienced any tingling. I mean, I can feel that something is on my skin and working, but the "tingling" is so mild. I am really glad, because I believe (hope!) that my sensitive skin can tolerate it. I actually believe this may be the solution to my acne.....
The white gel dries very very fast, so I can only apply a tiny bit in sections on my face. I'm not sure if I'm not using enough, but I wouldn't use much more before I see how my skin reacts. I also have to try to rub it/work it in my skin because otherwise it will leave a white residue on my skin.
So rejuva minerals is definitely causing the bumps and redness on my face. I was putting some on yesterday because I was going to church (I know I can't help it!), and excess fell on my chest/breast which is 100% clear and glowing, and within minutes literally- there were these flat little just marks...not really pimples...not a rash....but it was weird. So I see now that it is not good for my skin

dang it. I spent like $60 bucks on the trial size, then the full size, then the blush.....ugh.... I don't know what to do with it. Besides those little marks, I really love the makeup. Maybe the finacea will manage my skin enough that rejuva minerals won't cause that. Anyways, I just realize that if a considerably safe mineral powder causes that to my skin, wouldn't other makeup would do the same if not worse?
So anyways, this is what I did this morning:
Rinse face. Prick pimples with needle.
Apply manuka honey mask for 30 minutes. Did my dishes while I waited and ate breakfast.
Took shower. Washed hair with Aveda shampoo and conditioner. Washed body with papaya soap. Rinse of honey without putting my face underneath showerhead.
Dry off. Pat face with towel but skin still damp. Apply finacea to face and neck. Let set for 20 minutes
Apply moisturizer gently without rubbing off finacea.
and...NO makeup...
Just thought I would post a pic of my skin 4 months after accutane I finished accutane. I can only say this because of the date on the pic lol. You will really see how fair skinned I am lol. My skin was sooo glowy! I was wearing bare minerals I think.... I don't really remember the active acne I had then, but it wasn't perfect. Don't mind the funny face lol.