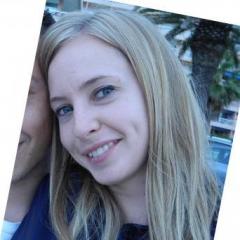 I wore makeup today. DOOOH!!! It was for my sanity. My skin actually looked much better and I felt confident lol. The reason why I wore it is because talking with new patients at the hospital is very difficult and stressful for me anyway. If I have zero self esteem then it honestly affects the way I can care for my patients. As soon as I got home today, I used the bioderma to remove makeup, rinse my face, pat dry, and then apply manuka honey with a few drops 100% TTO.
The bumps along my hairline and jawline seem to have gone away, but there are still slight clogged pores. I stopped using jojoba oil to remove makeup about a week ago, and nearly all the clogged pores have diminished 50%.
DOWNSIDE!!!! I have a huge forming inflamed zit on the corner of my mouth on my upper lip. It hurts lol. It's throbbing!!! There is not even a hint of a head, and is slowing forming. I know if I put AHA it will come to a head like the next day, but then I have to pop it which will create a huge crater in my face lol.....so I'll skip it. I'm guessing it is just a cluster of clogged pores, probably from not wiping my mouth correctly when eating. Or it could be from using my mom's shiseido powder foundation a few weeks ago for a few days while my new makeup arrived. It definitely could have clogged my pores.
Anyways. Forhead is 100% clear and smooth and glowy. :)I'm still using veltin on my forehead, and now i'm daring to use it on my temples. I've been doing manuka honey masks daily, one day I did it twice, usually for 30 minutes to an hour. The bumps and redness has diminished a lot, and my skin is smooth and hydrated again.
The moisturizer doesn't seem to cause problems as I initially did. I realized that even if my skin feels oily, I still need to moisturize. My skin actually seemed more oily because I wasn't moisturizing. What's amazing about the moisturizer is that my skin doesn't feel "clogged" or that it's suffocating. Most sunscreens were actually causing me to sweat a lot more- probably because it was blocking my pores. Has anyone else experienced this? I didn't know my skin could fee so free! lol AND, with this moisturizer my skin isn't a huge greaseball at the end of the day.
My urges to go and buy liquid makeup are pretty much ruled out now

So today is much better than yesterday. SKin isn't perfect, but I'm not looking for that. I can choose to be more and more obsessed about my skin, or I can just do whatever I can to prevent it and treat it, read everything, carefully eliminate and experiment moderately, and continue finding my cure. I am determined to continue...and I'm thankful that my skin is probably the best it will look right now...until I try another treatment of something.
Looking forward to the derm in two dayS!!!!!