can't get my hands off chocolate!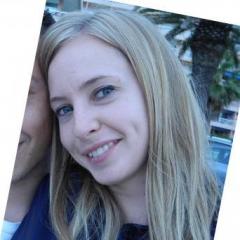 So I totally regret continuing to eat chocolate. I'm not sure what else is breaking me out, but I'm having those huge pimples on the right side of my mouth/chin/jawline and I'm scared my horrible acne is coming back. Except, that was huge cystic/mountainous pimples all along my jawline and down my neck... Crossing fingers this passes.
You know whats ironic? The left side of my face that I was always self conscious of because of the scars is totally my better side now. The scars look like nothing compared to the new zits lol. No one is looking at my tiny little red marks/scars but the huge zit next to it!
Ok. SERIOUSLY I WILL STOP EATING CHOCOLATE!!!!!
I for sure know I break out from caffeine. For about 6 months I didn't have any caffeine- no soda, no caffeine tea (even chai tea

), no chocolate, absolutely no coffee, and didn't have any of these huge pimples. Go figure. July began eating chocolate and whaaa laa.
Stopped using veltin and chin cleared up, but forehead broke out in little tiny clogged pores again

I think the Veltin is safe to use on my forehead. Or it could be that I used a tiny bit of eucerine/olay on my forehead and dry spots and it caused a breakout. I only can seriously point these out because I greatly reduced their use and used it in specific spots. I only use eucerine on my legs now, I'm too lazy to return it and don't just want to not use it and waste money.
Moisturizer:
Ordered silicone free neem 30 spf sunscreen/moisturizer. Hope it doesn't break me out at least. I'm actually optimistic that it will benefit my skin because of the neem oil.
Body:
Tiny little "nubbies" on my back, but no more pimples (one active new pimple in the square of my back but I think that's from bra strap). I think the papaya is really good on my body. Skin is smooth and glowy.
Popping pimples!!!! ewwww
Ok. Thats' it. Just cluster of about 4-5 pimples on my lower cheek/chin/jawline mouth area. Popping with sanitized needle, spot treating with either manuka honey or tea tree oil. Afraid to actually leave on AHA+, so I tried today leaving it on for 20 minutes on a tiny spot then washed off. Skin didn't seem too irritated. At least I can feel if I'm getting a pimple, and I can pop it before it really forms. Actually works and pimple doesnt really get inflamed. My jawline a little sore, but not as much as it was before they were popped. I HATE this feeling of my face being in pain. It's so depressing when I can feel them when I smile or make expressions!
MAKEUP
Rejuva minerals arrived! looking forward to trying them. Washed all my makeup brushes today. Will stop using jane iredale concealer. I will use concealer brush and use rejuva minerals. Hope it doesn't break me out AND can cover.
Ok thats it. Boring I know!