which is never consistent lol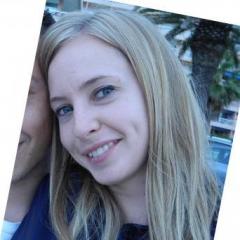 So in some strange way my skin is better....I think. I took some pics yesterday right after I popped all the pimples, and my skin was very very red. A few nights ago, I left manuka honey on the pimples over night, and one pimple on my chin that was this huge crater just shriveled up. Amazing. I stopped using the Veltin and thank God. I can't keep using the stuff, without 5 new tiny pimples showing up the next day. I would almost rather have a clogged pore/comodome, then a huge red mark on my face....For a few days I was clear, and that's because I took a break from it. But even if I spot treat, it really makes the pimple red and more aggravated. I believe that stuff actually damages my skin (which has been very brittle and sensitive even 2 years post accutane). I seriously can't put much on my skin anymore- it gets too irritated.
I am really seeing how my skin is naturally very oily, where I thought it is dry. It's because I always strip my skin of its oil and am damaging it. I'm not using any moisturizer, except if I must in the patchy areas of dry skin that are recovering from Veltin. I'm waiting for the new moisturizer to come in the mail....maybe another week? *fingers crossed)
Chin area is improving I think, from today compared to yesterday. I didn't wear makeup today, which my skin felt awesome to breathe. I was still incredibly self-conscious. I went out to starbuck with a classmate and studied, and then out to dinner with my parents. My parents have learned by now not to say anything about my skin. I have class tomorrow, which I somehow can't let myself go without makeup.

( I wish I could just give my skin a break....we will see how bad my face is tomorrow.
Today I ate a few pieces of organic bread with a chocolate spread

I don't know if I'll breakout from it, but it was really good. C'mon, I have to eat SOMETHING that my boyfriend sent me right? lol ugh. Then I pretty much just drank a lot of water and ate cooked vegetables. I'm trying really hard not to touch my skin, unless my hands are just washed, or rest my hands on my chin, face. I'm sleeping on my back again, and not letting the pillow touch my face. Sigh. It's crazy how long it takes to get clear, but how easy and fast acne can come.
Papaya soap is amazing. The skin texture and breakouts on my back and chest are sooo smooth and soft. I will keep using it! I would hate touching my back and feeling all this gross body oil, but now if I scratch or touch my back/chest, it isn't as oily.
It's difficult experimenting to get rid of acne using topical and diety changes, because you're not sure which causes what. I feel that my skin still has some glow to it, and even though there's pimples, all the other areas, red marks, scars, and unblemished skin looks very good lol and radiant. So...radiant glowing skin around all these nasty pimples makes the pimples stand out even more! lol...soon hopefull my chin/jawline will clear up and heal and get back a few layers of skin.
Anyways...this blog just helps me to keep track. Too lazy to post pics but I've been taking them almost daily, and I'm glad I did because I can definitely see a pattern of breakouts/clear days.