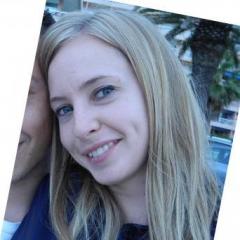 I seriously want one thing (besides more of God)...and that is clear skin.
I know that virtually no one's skin is perfect but a baby's.
I don't want to starve myself trying to eliminate all these different foods, but now I really don't mind going to the lengths in order to have clear skin. I'm already a very pettite person, so I don't want to look anorexic.
Something definitely caused this more recent breakout. It still could be the Veltin. Or it definitely could have been the sunscreen. Or the yogurt/cucumber mask. Or the random pieces of chocolate I have eaten. There is a huge pimple on my jawline....I haven't got this since before the regimen. I'm terrified to pop it because I don't want it to scar. I have way to many scars already.
I am becoming more and more self-conscious of my skin. I don't want to use any moisturizer (I only put a tiny bit of Olay on my dry spots) or even makeup, or do anything that might clog my pores. But...I also don't want people staring at my horrible skin and feeling sorry for me. I had to leave church early tonight because I just felt like my skin was so gross, and I was paranoid how big the zit was on my jaw.
My boyfriend from Switzerland just sent me a whole box of Swiss chocolate. My heart is so excited, but yet....I want to wait a long time until I'm clear before I try just one piece. I seriously can't handle the caffeine.
I put a tiny bit of Veltin on my pimples tonight. I don't think I'm going to use it anymore. Now, I'm going to use a bit of manuka honey on the spots and leave overnight.
I have to stop eating sugar. I feel nauseated after I eat it. I thinking of going to the regular dose of orthotricycline instead of the low dose. I'm tempted to investigate a prescription for spironolactone, but I don't want to become dependent on another medication.
Am I humble enough to go without makeup? I was when I was on the regimen simply because my face was such a flakey mess I looked super gross with makeup. I wish how I could use benzoyl peroxide. The regimen did break me out bad, but at least after a few months I had NO CLOGGED PORES OR COMEDOMES. They slowly came back when I had to stop using it.
ok. well nothing exciting...just getting down again. Determined to find a solution, and wanting a different obsession. I wonder if obsessing over acne is as bad as obessing over weight?