Day Two - Post 25% TCA Peel - July 16, 2011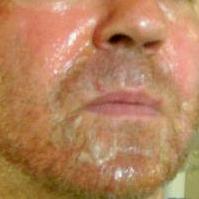 Day Two AM I woke up in the middle of the night and my face was burning.
This morning after I got up, I took a look in the mirror and my face appears to be pretty much like it normally does. Even my wife commented on this.
However, my skin appears to be a bit 'wrinkly' and I took some photos to document the process.
Hopefully, the peeling process will begin by Monday, July 18th.