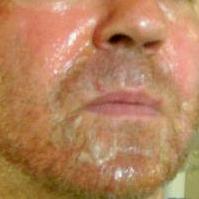 I just completed week one of a stay-at-home vacation.
I was supposed to have round 4 of subcision on Wednesday, July 13, 2011, but the appointment got cancelled by the doctor's office due to a scheduling snafu.
Since I couldn't undergo subcision and it's been delayed until December of this year, I decided to do a 25% TCA at home peel.
I bought my TCA from Skin Obsession after reading about other user's experiences with this product.
I thoroughly washed my face and then used alcohol to remain any trace of soap and/or oil from my face.
I put on rubber gloves and poured a small amount of the acid into a dish. I used a piece of cotton gauze and applied the TCA to my face and did this about three times.
Yes, it burned after a few minutes and then my entire face FROSTED WHITE. I took some photos because it was so wild. It appeared as if I had used some Dove soap and just left it on my skin. I rinsed my face with cold water after about seven minutes, but the white remained.
About 15 minutes or so later, my wife commented that my face was no longer white, but it appeared that I had a sunburn.
We'll see how day two goes.......