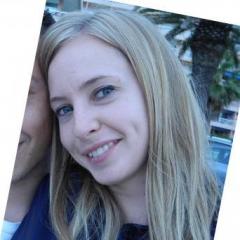 It's been almost two months since I completely stopped using BP. My skin had a minor break out since then (maybe 5 pimples in the last 2 months), but that's because I had tried using the Olay Regenerist night cream. I have a few minor tiny bumps on the hairline on my forehead and around nose, but other than that I have clear smooth skin. I have tried twice using a tiny amount of BP on pimples, and the next day that area is peely, angry red, super itchy, and swollen. So, I have ultimately decided that my skin doesn't handle BP very well, and I'm not going to try to use it because it will just make my skin sunburned and irritated. I think the Lord caused a really bad reaction to tell me to stop using it. My skin wasn't getting better.
Looking back, the DKR was doing more harm than good. However, through the whole process I became more aware of the chemicals I was putting on my face, the importance of being gentle with my skin, avoid touching my skin, watching the foods I eat, not sleeping in makeup, and just being more aware of my health and skin. I also am able to be around friends and family without makeup, which before the DKR I didn't. I'm not sure if it was the lotion as well that was attributing to cystic breakouts. When I stopped using BP and the moisturizer, I stopped having the cystic acne on my cheek, and my skin has returned to its normal color. One time, I used the acne.org moisturizer, and about 4 days later had a tiny bump under my skin, that became a pimple...No longer do I need to worry about flakiness, shedding, taking tweezers out and trying to scrape all the crap off my face. I have scars now from the initial breakout (about 4 months ago). I still feel down sometimes about the scars, but here is my new regimen to treat the scars.
Morning:
Dan's cleanser 1 pump. Gently glide fingers over face. Pat dry (I NEVER rub anymore).
2-3 pumps Olay Regenerist fragrance-free serum. Rub gently into face and neck.
Olay spf moisturizer for sensitive skin. Rub gently into face and neck.
Makeup: foundation Jane Iredale amazing base. This stuff is amazing! It seriously doesn't clog pores nor cause a breakout. It is expensive, but I've worn Mac, Sheseido, Bare Minerals, etc. and broke out from all of those. It doesn't cover the scars, but I don't want to cake it on anyway.
Night:
Dan's cleanser 1 pump with Olay Pro-X Brush. Good at removing makeup.
Dab AHA+ on scars.
2-3 pumps Olay regenerist serum.
I finally received the ZenMed scar kit. The microdermabrasion stuff is pretty amazing, and doesn't irritate my skin. Just from 5 days of using it (like its recommended) and combined with the Olay serum, I truly believe my scars are fading. I'm also using the Skin eraser treatment, which is a combination of glycolic acid and lactic acid. This however doesn't burn or tingle when I put it on, unlike the AHA+. When I take pictures now, it looks the same as a month ago, but slowly and surely my skin is becoming more and more smooth and soft. I really hope the scars flatten and don't leave too many "pock" marks. I hardly touch my face unless if I am washing it. I really try to avoid touching my face to sheets and the pillow.
I'm still not drinking caffeine-well maybe one soda and one glass of ice tea a month. I avoid dairy and butter, but this isn't a strict diet. I am on ortho-tri-cycline which I believe is the number one reason why my skin is clear. This is the BC I used in highschool and hardly had breakouts. If only I took this sooner, instead of those other forms. :Sigh:
That's it for now. Not much more to update. I'm not obsessed with my skin so much anymore. The regimen was taking too much time out of my devotionals with God, as well as worrying about my skin or the flakes. Now, I literally spend less than 5 minutes in the morning, and maybe 10 minutes at night. Good luck to those who are reading this, whether you're on the regimen, or taking Dan's advice and developing your own