Okay, so it's not really Day 1 of me trying to get rid of my acne. I've been trying for years. My face is clear, but the problem is my back, shoulders, and chest. In high school, I would break out a little on my back every once in a while, but I was able to go to prom and swim around others without any embarrassment because it wasn't bad. I'm now 21, and last summer, my back just flared up. It was terrible. It was disgusting and embarrassing. My little sister has the same problem, but not as bad as me. Hers is about the same as mine was in high school. Not bad at all. Just a few pimples here and there. But mine was terrible last summer. I finally went to the dermatologist (I was too embarrassed to go at first) in November. He said that what I thought was scarring wasn't (I guess just hyperpigmentation), and that we could get it all to go away that it would just take some time. He prescribed me Solodyn, an oral pill, and Evoclin, a topical foam, for three months. He gave me coupons for both for the first month, and total I paid $15 for both. I went to get the prescription filled the next month. Solodyn cost me $100, which I barely had since I'm a broke college student. They didn't have Evoclin and said they could order it, but I knew I couldn't afford it, so I didn't get anymore. With only the Solodyn for a couple of months, I didn't really notice any change. And now, my dermatologist isn't covered under my insurance anymore, so I have to find a new one under my plan. I could probably make an appointment for next week if I can call my insurance company and find out who I can go to.
My current daily regimen:
When I shower (and I try to in the morning and at night, but sometimes I only have time for once a day...)...
I wash with:
Dial Antibacterial Soap - I want to get a good cleanser that's not a soap, like Cetaphil or Alpha Hydrox's facewash, but I'm not sure which to get. Looking into it.

Any suggestions??
Clean and Clear Deep Action Exfoliating Scrub - this is what I like to use on my face. Once I get my AHA lotion, I'll stop using this on my back... it contains sodium laureth sulfate which everyone says irritates acne, so idk... When I run out of it, I'll probably buy something else for my face with just plain salicylic acid or benzoyl peroxide 'cause those seem to work best to keep my face clear. My face acne isn't too stubborn unlike my "bacne"
Diluted Apple Cider Vinegar mixed with Desert Essence Thoroughly Clean Face - the latter contains tree tea oil and awapuhi? (never heard of that second one)
Then, when I get out of the shower, I put vitamin E cream on my back, shoulders, neck, and chest.
Every day, I take these pills/vitamins:
Gianvi birth control x1 (does this help with acne? it's the generic version of Yaz. I know Yaz is supposed to help, but idk about the generic...) - I started taking BC three months ago.
Apple cider vinegar tablet x3
Fish oil gel capsule x3
Vitaclear supplements made by ProActive (was taking a multivitamin but replaced it with these 4 pills since my sister decided she doesn't want them)
I just ordered Alpha Hydrox's AHA Enhanced lotion. I plan to use this at night while I'm asleep and just use the vitamin E cream during the day once I get it.
I've also stopped using body washes and shampoo with bad chemicals.. I've been using a shampoo bar from Lush.
It seems like I'm doing so much. Am I perhaps doing too much to get rid of it? I just want it gone.
But yeah... I'm going to the beach in a month and don't want to be super embarrassed. My older sister always comments on it and embarrasses me. I'm planning to go to a tanning salon, too, starting tomorrow... probably going to get a month unlimited and go 3x a week 'til I go to the beach. Should help to at least make the acne less noticeable, and maybe it'll help to dry it out and get rid of it. I'm so tired of being embarrassed by it. I want to wear low cut shirts and tank tops and sleeveless shirts and dresses without backs and swim suits without a shirt on over them! I want to be able to get intimate with a guy and not feel so self conscious

My current boyfriend hasn't seen my back in over a year because I avoid it. It was pretty clear with just a break out every now and then until last summer... Another guy I dated (on a break with my current boyfriend) noticed and often made comments about it and wanted me to show him, but I just couldn't...
Pictures I took today:
Chest (only one pimple that's very small

)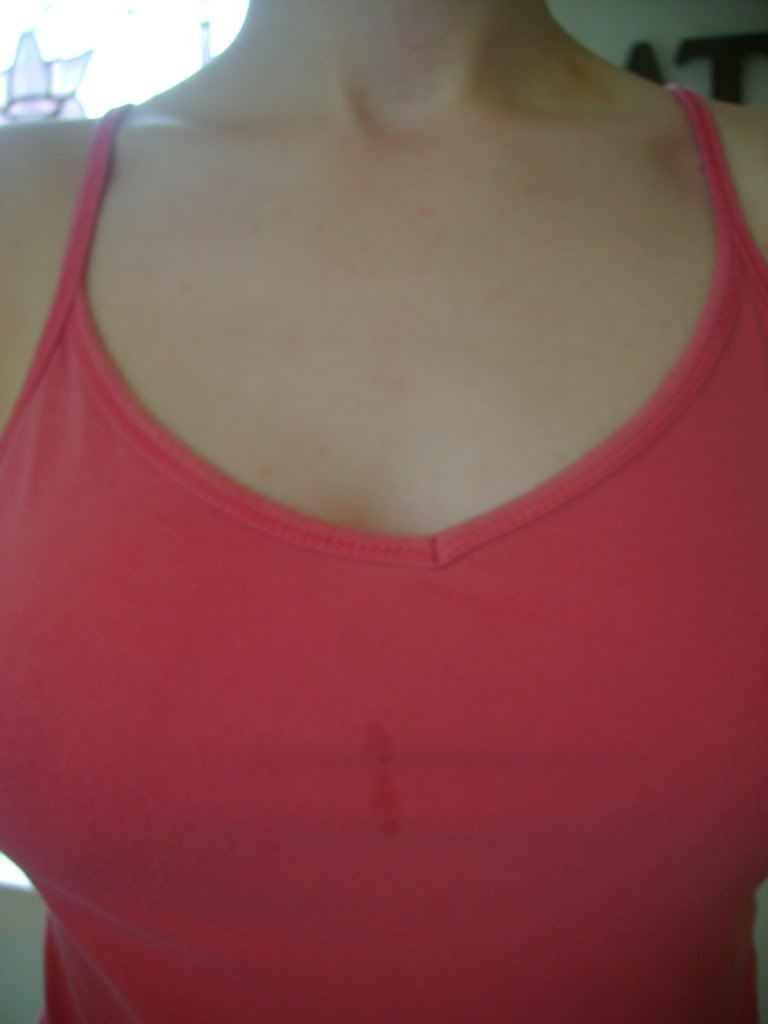 Back/shoulders (bleh)