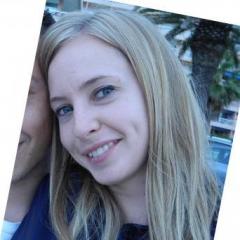 My skin has become very soft since using the Olay moisturizer, though there are still flakes. However...it just leave my face white. Yes, it absorbs in my skin, but it makes the dryness and flakes more white (if that makes sense.) I'm thinking of maybe trying to mix Dan's moisturizer with it, or just use much less of it. I'm so used to using a crapload of moisturizer that I think I need the same amount still with different products. It doesn't absorb well over areas where there is a lot of BP. My forehead absorbs it pretty well, as well as my neck, but my mouth area and cheeks are a different story.

Unfortunately, the Olay burns my cheeks where I mainly put the BP. For the last few days, I've been scratching my face. Not just like stroking my fingernail on a part that itches, but sitting or doing whatever and just scratching the patches of dry skin off....and I'm totally regretting. Not only am I prolonging scarring, but I'm irritating my skin. I don't "pick" my acne...I scratch. Still, it will not help my skin and for some reason I just couldn't stop. It has been really really itchy because it's dry. Sigh. I will pay for it in the next few weeks.
I am just DONE with the dryness. I wake up in the morning with super dry skin. I have been using the same amount of BP (1 pump) since week 4. Now, I didn't always apply it all over in the morning, but I've used it at least twice a day. I realized, that I probably scratch my skin in my sleep, because that sensation doesn't go away when we sleep. I haven't slept well the last few nights, as if I'm conscious that I can't turn over on my pillow or I can't touch my face. Weird. I'm a total belly sleeper too, so this is hard. Plus, the moisturizer/jojoba oil come off if I touch my face with my pillow. Maybe I will apply 4 full pumps of Dan's moisturizer tonight. Apply two pumps with jojoba oil, wait til it absorbs. Apply 2 more.
My skin, though dry, has somewhat a glow to it. Thinking about all the dead skin I shed these last two weeks disgusts me. I'm realy glad, like I've said, that I took before pics because....my skin was super gross and just aweful! Hopefully tomorrow....a little bit better

)