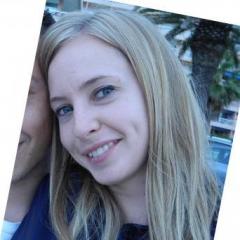 So I pretty much got fed up with Dan's moisturizer, and bought the Olay complete UV moisturizer for sensitive skin. It is pretty thick compared to Dan's moisturizer, but it doesn't leave my face all yellow and blotchy, even after putting 3-5 drops of jojoba oil in it. In fact, it actually makes my skin more white, which I don't mind since it will match the rest of my body haha. Even the whiteness masks my red marks-its almost like the perfect "tinted" moisturizer, except there's no tint to it since I'm so white haha. Who would have thought? I like that it is a sunscreen as well. Unfortunately, it takes a long time to sit in, but once it does I feel that it actually moisturizes. I'm hoping that whatever aloe and vitamin E will help fade the scars.
I even used it last night, I couldn't wait to try it. I notice that my skin is still flakey, but I don't feel any tightness anymore. It is currently really itchy on my neck/jawline and dry, which when I turn my head causes wrinkles. Ew. But my skin on the lower part of my neck and chest are glowing again. I only use BP on my chest all over maybe...3 times a week. Otherwise I'll spot treat if I feel a pimple forming.
So I've been clearing up on my back, and maybe use BP when I feel like it haha. I stopped using detergent (I dilute a tiny bit of wisk) and wash my towels, sheets, and clothes in hot water. My body all over has cleared up dramatically. However, I got at least 5 new small really itchy pimples last week. 3 of them were on my lower back towards bottom of my rib cage, and had ruled out it wasn't shingles because they weren't painful-just itchy. I had grabbed some towels from my parents bathroom because I didn't have any clean ones, and after I used it I thought "oh, these towels have been washed with detergent!" I was wondering if I would break out, and sure enough i did a few days later. I don't rub my back or chest dry- I pat. But it could have been many factors. Well, the thing that concers me is how itchy the pimples were. That's why I think it was a reaction to the detergent in the towels. Then I was motivated to do laundry haha. So, I just slathered on some BP and they are no more but little spots.

sigh they will fade. No one sees the lower part of my back anyway.
Basically, I only wear foundation makeup about one day a week. I still wear a little mascara if I'm going out. I just brushed a tiny bit on today, of Jane Iredale's amazing base. I'm pleased that my skin has returned to almost it's normal color. People have kept asking me if I went tanning, got sunburned, got a peel... hahaha
Currently, yes I still have a few active breakouts, but I keep reminding myself that it has gotten so much better. There are two active, rather small pimples on my left cheek. I haven't touched them, and they are healing fast. I have a rather strange firey red one on my temple. Kind of reminds me of pre-accutane pimples that were just so stinking red and NEVER came to a head but were kind of soft and right on top of skin. Strange. I have one small one on my chin that came up yesterday, that I imagine will be gone by tomorrow by the looks of it. I have one right under my nose-it's so irritating because I wipe my nose and just irritate it nore on accident. I have 2 very small pimples on the right side of my mouth-started off as clogged pores. The recent breakout on my right cheek (rather strange) has left some dark marks.

I'm praying that these scars don't dent or become pitted. I haven't picked or squeezed them.
I want to try the Olay regenerist deep hydrating cream, but I really need to only introduce one thing at a time to know if it breaks me out. OK. I'm beginning to be optimistic again.