So I realized recently that I didn't have a couple of things listed on my regimen that are probably a great help in clearing my acne so I'm going to add them now.
Firstly, in the morning, after I'm done washing my face with the Proactiv facewash; I steam my face 3-4 days a week. I steam my face for about 15-20 minutes while I listen to some music, or sometimes watch part of a movie or tv show on my smartphone.
How to steam your face:
Large Glass Bowl/over sized coffee cup
at least 1-2 cups of boiling water
1 tsp table salt
towel to put over head
1. Have all the items ready for you at the location you will be steaming your face. Your towel, tsp of salt, and music or whatever should be waiting for you there.
2. Wet your face right before you begin your steam with some warm-hot water.
3. RIGHT after the water is brought to a boil, put it in the bowl or cup, and set it down where you will begin steaming your face. Have your towel ready, and pour in the tsp of salt right as you place your face over the steam.
*Be sure to be careful of the boiling water that will occur when adding the salt! This water is hot and WILL burn you if you're not careful. Be sure not to dip your face in too close to the water because you may burn your face... which won't help your acne at all!
After your pores are opened from the facial steaming is the best time to do some extractions. You can buy an extractor tool at pretty much any drugstore for a very cheap price. There are other effective extractor tools that you can buy online that do more, but they are geared more towards professional estheticians. I like my simple tool that I bought at the drugstore, and it works fine for my extractions.
There are two sides to most extractor tools. One side has a flat style loop with a small opening in the middle. This side of the tool is made especially for blackhead removal. When your pores are freshly opened after a facial steaming, you should be able to see your blackheads closer to the surface of your skin. Press the loop firmly but carefully, in a sort of downward motion at the center of the blackhead to extract your blackheads. Be sure not to press too hard. Don't worry if you leave loop marks on your skin, in a few minutes these marks should fade.
The other side of the extractor tool is a round style loop with a larger opening in the middle. This side of the tool is perfect for whiteheads, or larger protruding pimples. You can use this side of the tool the same way that you use the flat style loop side: Press loop firmly but carefully in a downward motion, with the loop surrounding the outside of the pimple.
If you use this tool after a good steaming, you will get MUCH better results than using it all by itself. They are a team, and should be used as one!

After you do these extractions, be sure to sanitize your face to prevent the infections that you just brought to the surface from causing any other breakouts elsewhere on your face. You can sanitize your face with the Proactiv toner, ACV Toner, or witch hazel. I also like to use honey on my face as well. Google honey for acne if you think I'm crazy, and you'd be amazed at all the stuff you'll find!
How to use honey in a facial:
1. After extractions, wet face with warm-hot water.
2. Drip about a half a tsp of honey on your fingertips, and cover face with it. The honey should be thick enough on your skin for it to give good coverage, but the water should help it spread more evenly and prevent it from starting to drip from excess honey.
3. Give the honey at least 10 minutes to work. If I have the time, I sometimes leave the honey on my face for a couple of hours. The anti-bacterial properties continue to work, and sometimes the honey seems to just seep into my skin and leave it feeling nourished and smooth.
Well, I'm just over 3 weeks on Proactiv, and as I've said, I'm enjoying the product. I am using a ton of other products and methods to help in the clearing process; but these things I was using before Proactiv, so they are not the sole reason for my success.
Here is a couple of links for pictures of my skin on the 17th of November, that's 11 days ago.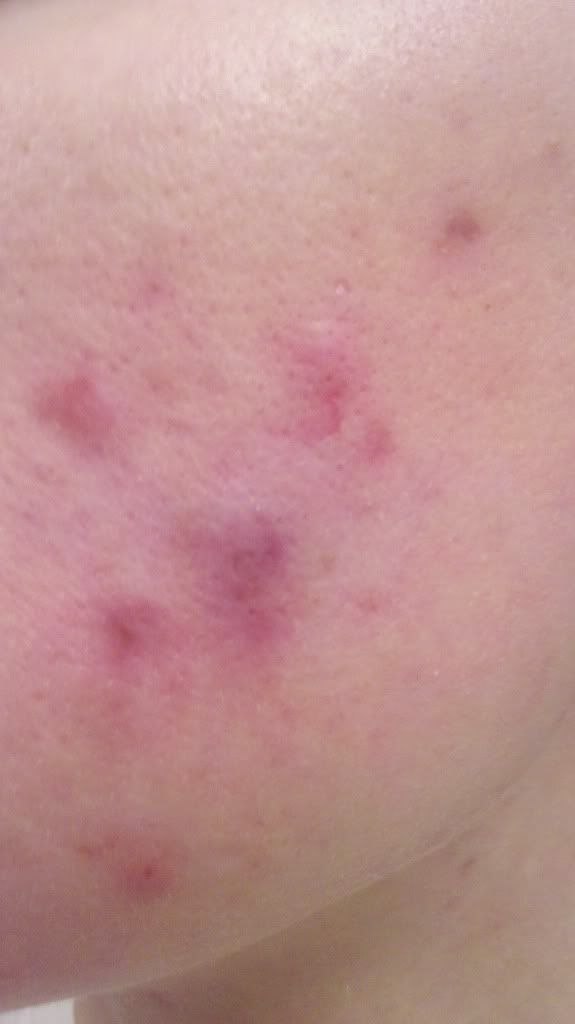 Here's my skin today... You can see my acne fading. These are close up images, so I'm totally aware of how disgusting they look, but I do see an improvement of my skin. About 99% of the marks you do see in both sets of pictures is flat to my face, and much of it is actually post acne marks and acne scars. These are not very hard for me to cover up with some light concealers, even though I can't wait for my skin to finally heal enough so that it's hard to see the scarring.
Well there ya go... I've let it all hang out for you guys, and I hope you know that! It's not very easy to put your face out there for the world to see, but I think it is a good way to help people to find what helps them heal from our acne.
If you are going to post anything on my blog, please be sensitive to my feelings... I hate my acne as I'm sure you hate yours... I'd rather not see any posts about people saying how ugly my face is, etc.
Thanks!