Mario Badescu Acne Facial Cleanser - Reviews
Mario Badescu Acne Facial Cleanser
---
---
View Ingredients
Ingredients
Aqua (Water/Eau), Glycerin, Triethanolamine, Sodium Laureth Sulfate, Propylene Glycol, Isopropyl Alcohol, Salicylic Acid, Dimethicone, Aloe barbadensis Leaf Juice, Chamomilla recutita (Matricaria) Flower Extract, Thymus vulgaris (Thyme) Leaf Extract, Sodium Hyaluronate, Carbomer, Parfum (Fragrance), Diazolidinyl Urea, Methylparaben, Propylparaben, Benzyl Benzoate, Benzyl Salicylate, Eugenol, Linalool.
Items marked with
orange
can be irritating and over-drying, especially to acne-prone skin.
The list of ingredients above is provided for informational purposes only. Always check the actual product label in your possession for the most accurate ingredient information due to product changes or upgrades that may not yet be reflected on our web site.
---
It was a mess

It didn't help my skin or make it feel clean. I don't know if I was getting an allergic reaction to something but I remember my face itching. I don't think it broke me out but it did not help with my acne at all.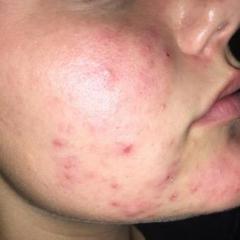 ---
No

All of my life I have had pristine skin, until last year. I am now a senior in highschool. So, since middle school I used the Clinique Acne line and had very minimal issues. About 1 year ago, I started breaking around the sides of my chin (an area said to be caused by dairy intake) so I quickly intensified my face routine, got stressed about my skin, started to touch and mess with the acne and it got worse. It seemed to worsen and I heard about mario badescu's line so I decided to try the acne face wash. My skin got super clear super fast.... for one week actually. A week of clear skin passed and then it got so bad. My whole face looked like a messy allergic reaction, with excessive reddness and clogged pores. Skip ahead a few months later, I switched back to clinique, and my face is still doing terribly. I am starting to take clindamycin phosphate lotion, a prescribed medication and it hasn't done much yet (one week in so far). I have a great diet, play competitive soccer (so I'm very active) and I am no more stressed than I have been in the past (besides now constantly being selfconconcious about my acne). Any suggestions ir product recommendations? I'm going to the doctors and I am strongly considering trying acutane