Several months ago I posted photos of my skin http://www.acne.org/...tos-of-my-skin/
I am now happy to say my skin is coming along nicely
. It feels like a constant battle still...once it clears up it comes back again
. My main concern now is marks leftover from acne, which the SkinDoctors should help with if I am patient!
I have been using Skin Doctors Gamma Hydroxy Forte morning and night, sometimes having a few days break from it as it is quite strong! Cleansing with Cetaphil and moisturizing with Ultraceuticals Protective Daily Moisturizer SPF 30 you could use any basic oil free moisturizer with sun protection. I just chose this because it was a product I had sitting in my cupboard, Dermalogica was stinging my skin with the strong treatments I am using. Oh and if I am wearing makeup I cleanse with Estee Lauder Perfectly Clean foaming cleanser, again something I just had stashed away in my cupboards. I find this does a really good job at getting the makeup off which Cetaphil doesn't.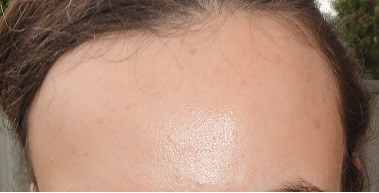 My forehead now, mostly clear!
Ok I do have some makeup on but it's very light! You can see the marks that I am talking about though on my chin area.