Hey all,
Sorry about the length.
I genuinely want to offer any help to anyone who might be going through a heavy-duty oily skin problem.  Can't speak on behalf of oily skin spurred by genetics/puberty or anything like that, but instead caused by the daily routine. Just some advice from an average Jane here who legitimately noticed a striking difference in oil-levels of her face. To think how much time I wasted angsting over ALL of the stuff out there on the net about how to get rid of it or cover it up...
Triggers?
I'm pretty sure I triggered it myself. What I am sure triggered it was using things like papaya/olive oil soap (soaps!) on my face and over-exfoliating (I was using an Olay daily scrub). As well as all of those frequent face mask experiments, with every natural ingredient under the sun (all which I read would help with acne. srs. All those Youtube Beauty Guru videos I watched...aah ;-; ). It was just too much for my face, and it upset the balance. I do use prescribed Benzaclin as well (benzoyl peroxide and clindamycin), but at the time, it didn't dry up the oil. Didn't solve the problem, obviously didn't cause it either.  
My face was ridiculously oily last year up until maybe May of this year. Just...disco-ball shiny. It was really embarrassing and nothing helped as I remained oily even after I blotted/powdered my face all day long. People would constantly ask me if I was feeling hot --despite being autumn or winter-- and if I was ok. It was just my darn skin!
I tried milk of magnesia (didn't work), different powder makeup, drinking lots of water, face masks, etc.
However, I'm SO MUCH better now (just the few chin spots to go! ffff), and I might be speaking too soon, but I think these three things helped me finally balance out the oiliness of my skin:
Treatment:
1) I used jojoba oil (the brand I used is Aura Cacia, $16 at Bulk Barn). This was the major turning point for me. It's KEY. I used it for a couple weeks, and now only very sparingly. Wait a bit for results, and you only need a thin layer in areas where you're oily (don't layer it on your face). It is designed to rebalance the oils of your skin (says right on the label!). I know others on this forum mentioned this as well. Spot treat an area first for a while to see if it makes a difference.
This stuff (bottle on the left):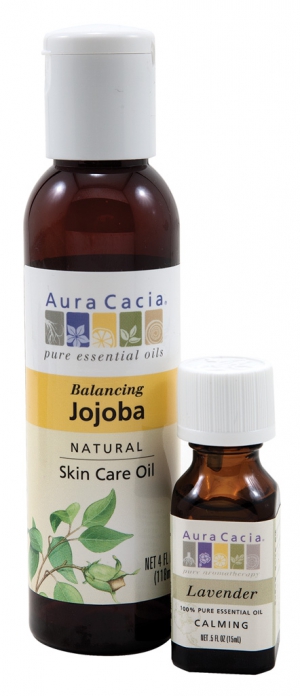 2) I cut back on exfoliating my face big time. Maybe once every 2 weeks, but not on a daily basis like before. This is also HUGE. I notice now that I get slightly (temporarily) shiny right after I exfoliate. Goes away in a day or two (powder works now in the mean time). If you exfoliate, do it really gently. Don't grind/press into your skin, but glide.
3) Minor things: Think about body temperature: cut down on long, steaming showers (shorter showers at a medium temperature instead), I limited time spent under my hot overhead lamp above my bed, and turned my ceiling fan on 24/7. Plus, I spent more time outside (at least 20-30 minutes a day). I've also done a couple light salt water rinses, but mostly for my seb derm. Done a FEW clay masks really sparingly (once every 2 months, just out of the blue. Don't think this made too much of a difference). These are all minor things, but I feel they helped.
Other points:
In my case, it was nothing diet related at all. My diet is the same. Maybe even slightly worse.
I sleep better now (done school, so I can officially sleep 8 hours a day!), but I don't think that's relevant in this case?
Less stress. But I was stressed before my skin got oily.
Don't scrub/rub your face, and be very gentle. Try to simplify your routine, e.g. cleanser --> acne medication --> moisturizer only in areas you need it--> make-up/sunscreen (I use a spray) in the morning. Don't use lots of scrubs and face masks too regularly. p.s. I use cetaphil moisturizer and Spectro gel cleanser. Aloe vera (bought at Walmart) here and there. 
It will take some time. I still might get a bit of a sheen if it's REALLY hot or if I exercise (nothing that a quick wipe over with a tissue won't solve), but I'm in a far happier state regarding oily skin now. It's currently pretty matte in comparison. If my skin ever gets dry (from bp), I just use a bit of aloe.
Cheers!