I'm 31 and have had clear skin my whole life until about 3 months ago. I would occasionally get a small whitehead but nothing big. Now I have semi-severe cystic acne on the right side of my face (cheek and chin). This type of acne is entirely new to me. I have pretty dry skin. My checks have always been clear in the past. I recently relocated at about the same time as the onset of my acne, but I have moved several times in the past few years so I am reluctant to blame the move.
I've gone to the derm and first tried minocycline then bactim. I had severe hypersensitivities to both. My lymph nodes in my neck/head swelled up and I had a fever/headache. So no more antibiotics for me. Both times I was given a medrol dose pack for the reaction which decreased the inflammation in my acne, but did not make them go away. (Pic of right cheek taken while on medrol-many red marks but not as bumpy as before). Now I only have topicals-tretinoin at night and clindamycin lotion for day.
Since this is sudden, I suspected a change in my hormones. I brought it up to my gynecologist and the nurse brushed it off as nothing, saying "No, not at your age." My age??? I'm 31! I should note that I have been on BCP (Yasmin) for years.
I'm at a loss. This is such a huge change for me and it keeps getting worse. It's terribly embarrassing. Does anyone have a similar experience? Any ideas of what to do next?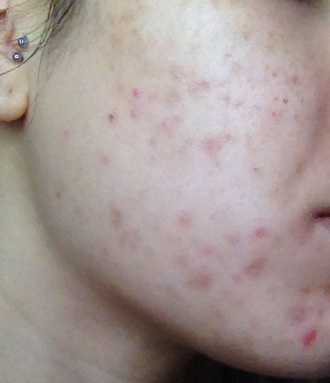 Edited by emanresu, 01 December 2013 - 11:52 AM.