Let me begin with a little background on my skin. I had moderate acne on my forehead & chin in high school. I tried every type of prescription topical and that usually took care of it. Recently though, My face broke out into a very severe case of nodulocystic acne! I have never experienced acne like this. I would love to know if anyone has had a similar sudden experience like this! The way it came on so suddenly is really frightening, it seems like something went terribly wrong in my body! It's so scary. My face looks awful, It seems like both of my cheeks are solid cysts. It's been a physically painful and emotionally horrifying experience! But I am SO very eager to start the accutane process and hopefully I won't experience an initial breakout, it seems like it couldn't get much worse than this anyway. 
I finally started 30mg of accutane and azithromycin ten days ago. I'm focusing on having positive thoughts about the whole experience and hoping/praying for amazing results! I'll post a photo of my face before the major breakout I had, It's pretty crazy how sudden and severe my acne came on. And I'll continue posting photos every week of my progress! I would appreciate any advice, and for you to share your experiences too! 
BEFORE my breakout 
The scary breakout!!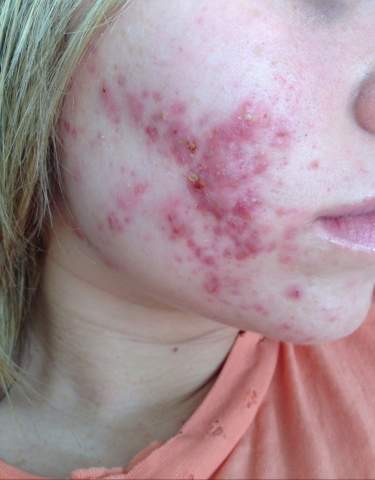 PS I'm 10 days in and luckily I've only experienced some lip dryness as a side effect. I've also had a few new cysts
but nothing unbearable
Edited by Tessolivia, 03 January 2014 - 03:01 PM.