Hi guys!
I'm pretty new to this forum and wanted to share my story of acne prone skin & my decision of going through the Tretinoin / Retin A regime.
My problematic skin history started 4 years ago with me being 24 (my dermatologist back then called it 'adult acne' - thus probably hormonal acne). I never before had experienced cystic/hormonal acne in any form(except maybe a couple of blackheads on my nose but that's it!) and when I first got one cystic pimple I didn't know what it was and just squeezed all the crap out of it, without informing myself about possible bad scarring. A year later and my cystic inflammable acne got worse(on both cheeks, not on chin though) but was still mild as I broke out just once every two weeks or so, the healing process unfortunately could last weeks or months and I got lots of red spots/scars that just didn't want to go away.
So after a year my acne & my once normal skin got even worse (2010) and I started using Skinoren(BPO) and other acne reducing stuff such as antibiotics and different acne creams that worked for a while but never prevented those big painful cystic bumps from reappearing again. It actually got better after I changed my cheap cosmetic brands that I used before (started using only Bobby Brown Make Up which worked for me, with the downside being too expensive) and I also changed my daily moisturizers(day & night creams) and my facial cleanser which didn't irritate my skin and made my now sensitive skin clearer(I used German brands such as Getrude Gruber / Dr. Eckstein, no advertisement intended). I also started visiting a cosmetologist once a month to clear up my skin and make the scars (that weren't really deep) fade away (microdembrasion! helped me a lot!) . Everything seemed working really fine(for the past 1 1/2 years!), and the cystic acne eventually almost went away and when it reappeared it was not that painful and huge as it used to be.
I don't know what really happened but since the last couple of months my skin started producing a whole lot of blackheads & whiteheads on my forehead, on my nose, on my cheeks and on my chin!
  I didn't break out from it badly, my face just looked like it had dozens of those little bumps- all over my face.. The acne is still mild but the blackheads & the whiteheads really get on my nerves and my wish to have clear healthy looking skin made me so greedy that I purchased the Tretinoin/ Retin A creme(moderate dosage of 0,05 %) after reading a lot about its mostly positive effects on problematic acne skin. 
And since I've been an avid reader I decided to start posting about my Tretinoin/ Retin A 0,05 regime that officially started 1 week and 1 day ago with the idea in my mind that maybe people will want to read about my experience with the Retin A just because you are interested in this method of clearing your skin or because you yourself are currently on Retin. Any comments, suggestions etc. are more than welcomed!!! 
  I hope to get good results from my hopefully fruitful Retin A use and get rid of my adult acne/ blackheads/whiteheads once and for all. 
Thank you for reading this long post!
--------------------------------------------------------------------------------------------------------------------------------------------------------------------------
I will post on a weekly basis: so every week my post will contain 7 days and I will also try to add some pics once in a while, depending on how worse or how good my skin will look. *crosses fingers*
And here is the Rein A routine of the very 1st Week (2th of Sep.-10th of Sep.13): 
Day 1
Evening routine: wash face with mild cleanser. Wait 20 minutes to half an hour with applying Retin A 0,05 cream, because it won't irritate your skin directly after washing. Skin must be dry when you start applying your tretinoin cream or Retin A cream to the acne-prone parts of your face (nose, cheeks, chin & forehead). Only a peasize! That was recommended by many and can be found in the instructions!
Day 2:
Morning: Washing face and applying facial cream. As far no irritation of skin, no burning, just little flaking/peeling on nose. Overall skin looks fresh and smooth. My one cystic pimple looks smaller than the night before. Didn't expect that
IMPORTANT: Applied sunscreen 30 SCF or more! I use a BB cream so it already has sunscreen. DO NOT FORGET THAT EVER!
Night procedure: the same as on Day 1. 
Take a break of 2 days. 
Day 5:
more peeling around nose/nostrils. Some small parts on nostrils seem to clear up. Skin looks smoother. But that's just the beginning, so I'm not overrating the Retin A effect since it can't be that fast.
Morning: Washing face, scrubbing (with a wet towel) gently the part around the nose area since it starts flaking a bit. After that moisturizing skin with a mild non-irratating cream(non-comed. cream) + SUNSCREEN!
During the day symptoms: sudden flushing of face. more blackheads, skin looks raw..
Night: Washing face. Waiting 30 minutes, then applying a pea size amount of Retin A cream to my face. 
Day 6: 
Morning: more blackheads. Retin A starts working I guess... I hope. No itchiness. But more peeling/flaking around nose/nostrils. 
During the day: no symptoms so far. Skin feels a bit dry though. Moisturized my nose a couple of times. 
Night routine: washing face, waiting for half an hour, then applying a small amount of Retin A cream to my dry face. 
Day 7: with attached pictures of my current skin situation..
Morning: to itchiness. No major breakouts. Peeling of nose continues. Only the nose area though. I think I slightly burned one of my nostrils. Its kinda painful on one side of my nose. 
Washing face with a mild cleanser, scrubbing my face with a wet towel to get rid of the dead skin cells. My skin suddenly starts stinging when applying moisturizer + BB cream with SCF 30. Didn't have that symptom before...
Day symptoms: skin feels hot in the sun(abnormally hot I mean). 'First' new pimple on chin, but a small one. So no major problems so far with my Retin A usage...crossing fingers..
Night: Washing face. Waiting for 40 minutes. Applying a pea size of Retin A. 
Day 8: 10.9.13
Morning: Skin feels a bit dry. Nose is flaky, in peeling process. Chin as well. But not that much visible. The cystic pimple I had before I started using Retin A worsened suddenly after getting better in the beginning of the treatment. It hurts and got bigger over night after I spot treatment with a bit of Retin A .. Won't do that to any fresh pimple ever again!!!
Washing face makes my skin feel dry and tight. It also start itching after applying moisturizer. Does someone know why?
Day symptoms: Pimple is still hurting. Skin feels dry and tight. Little bit of peeling on cheeks and chin. Forehead remains almost the same.. if not a bit clearer..? 
Night: same as the last few days.
That 's it so far guys... I really hope that I won't break out severely! I never had bad acne and I battled my acne scars that I myself was responsible for with expensive visits to a cosmetologist... So I don't want to spend sh** loads of money on it once again...I really really hope that the purging time will be over soon...Like in a week or two.. since I have mild acne and want to get rid of my black and whiteheads... 
Thank you for reading...
Week 2 will be updated very soon...
-----------------------------------------------------------
The following pictures were taken on Day 7.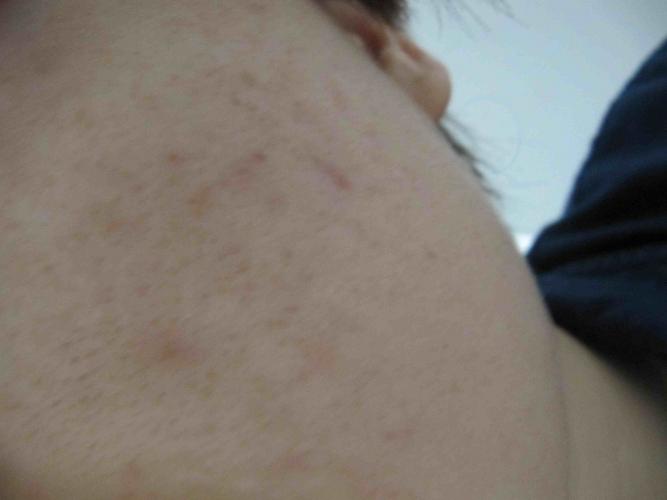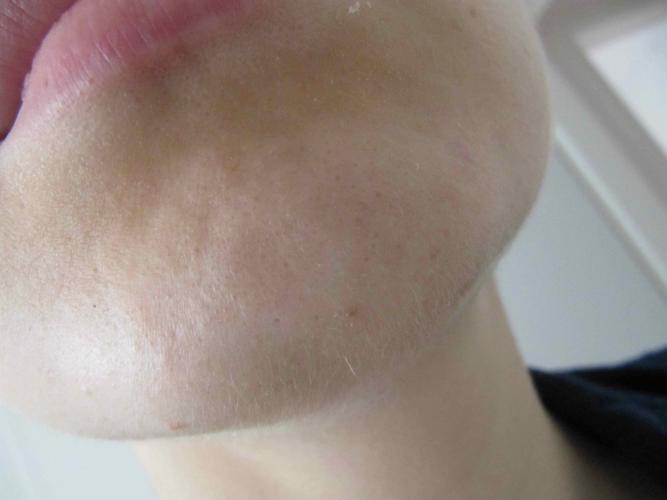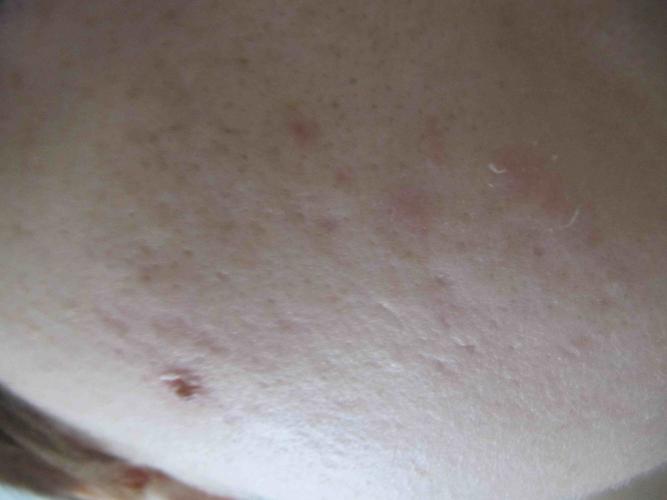 The following pictures were taken today, on Day 8, Sep. 10th.